LeBron James: Lockout shouldn't mean asterisk for NBA champions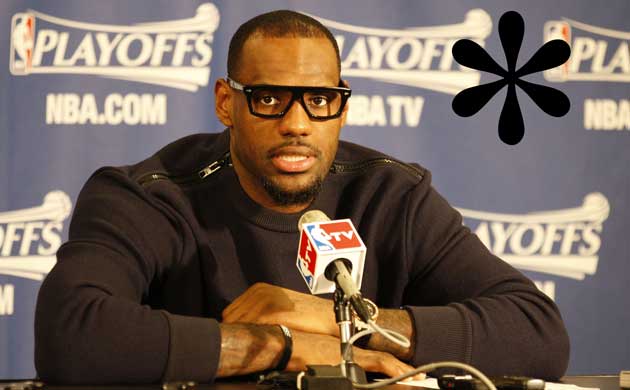 LeBron James argues that there shouldn't be an asterisk on this season because of the lockout.
(Getty Images)
If LeBron James finally wins a title during this lockout season, he thinks it should be regarded like any other.
The All-Star forward and his Miami
Heat
seem destined to make their second consecutive trip to the NBA Finals during this 66-game lockout-shortened season. They are breezing through the New York Knicks, they will likely meet the unimpressive Indiana Pacers in the second round and their main East rival, the Chicago
Bulls
, have been decimated by injuries to
Derrick Rose
and
Joakim Noah
. As long as Miami can take care of an aging, depleted Boston Celtics, who they torched in 2011, a title shot is theirs. They never even had to think about the Orlando Magic, as All-Star center Dwight Howard underwent back surgery for the playoffs.
In James' mind, the injuries and the schedule shouldn't discount from whoever winds up winning the title.
ESPN.com reports
that James took issue with anyone who wants to put an asterisk on this season because it was shorter than 82 games or because so many injuries impacted key players.
"I don't think that's right to say," James said. "I'm not going to get involved in it. Every team works hard no matter if it's a lockout year or not. There's not much of a difference between 82 games and 66 games."

"I don't discredit the effort San Antonio had when they won it in '99 after the lockout," James said. "We all know Gregg Popovich is an unbelievable coach and Tim Duncan is an unbelievable player. It shouldn't matter. They won multiple (titles) after that so are we going to say that first one wasn't good enough? I don't think that's true at all."
Turns out, this is an issue we touched on all the way
back in November
, when the NBA's labor stoppage was first resolved. We noted that the Heat were winners of the lockout because the new Collective Bargaining Agreement would not feature a hard cap or other mechanisms that would have forced them to break up their Big 3 of James,
Dwyane Wade
and
Chris Bosh
. But the Heat were also losers because the 2011-2012 season would carry the mark of a shortened season.
The 2011-2012 season now officially bears the historical taint associated with an abridged schedule. The 2012 Finals winner, no matter who it is, will bear the asterisk of being "lockout champions." That's fine if you are the Dallas Mavericks defending your 2011 title or the Los Angeles Lakers adding to your stockpile, but if you're James, Wade, Bosh and company, your first title needs to be clean or critics will mercilessly work to invalidate it. Winning in 2012 will require Miami to win future titles to prove that their triumph wasn't a short season fluke. In other words, James and company will carry a burden into the 2012-2013 season even if he finally wins his first ring.
James' statements about the Spurs really prove this point. He refers to their future titles as validation for the first one, which is absolutely true. But what if they hadn't won any future titles? What if the Spurs went one and done in that lockout-shortened season? The consensus would be that it was a fluke, of course.
Should James and the Heat win a title this year it won't have the full "monkey off the back" feel until it has been validated free of scheduling irregularities, preferably multiple times. Imagine if James retired in 2020 as the NBA's scoring champion but with only one ring -- a 2012 title -- to his name. It's unreasonable to expect that analysts would really give him full credit for that. (The same burden, by the way, would apply to Oklahoma City Thunder forward Kevin Durant, although it would be mitigated somewhat by the fact that he's four years younger than James and still with the franchise that drafted him.)
Injuries are a part of the game every season and the analysis this year seems to have concluded that there are not any more injuries than usual because of the lockout schedule. Still, injuries will have an indirect effect on how a Heat title will be viewed because of the starpower of guys involved and how directly it benefits Miami. Consider, for example, the Heat waltz through the Knicks, Pacers and Celtics while the Thunder have to go through the Dallas Mavericks, Los Angeles Lakers and San Antonio Spurs to get to the Finals.
If Miami winds up topping Oklahoma City in seven games, you don't fully expect a large segment of observers to credit their eventual victory on a significantly easier draw? Especially given the compressed schedule? Short of sweeping through the entire playoffs, it's difficult to imagine a scenario where Miami can emerge as champions without catching flak for the obvious strength imbalance between conferences, an imbalance that went from obvious to comical with the loss of two All-Stars (Rose and Howard) at the worst possible time.
There's another issue at work here, and it's one that's particular to James exclusively. The expectations for his career are that he retires as one of the top five players in the history of the game. That will require lots of titles, for sure, and he will be subjected to the same level of hyper-scrutiny that Lakers guard
Kobe Bryant
is currently dealing with when it comes to the Michael Jordan comparisons. In this case, all six of Jordan's titles came in 82-game seasons. Same with all five of Bryant's. Should James continue his ascension to their heights and challenge those numbers, you can bet that the asterisk talk will be at a fever pitch to serve as a tie-breaker in "Greatest Of All Time" arguments.
Make no mistake: James' perspective on the asterisk is reasonable and would be totally logical if we lived in a fair world. But the NBA, its fans and basketball purists have never been about treating James fairly. He's held to the highest possible standards -- sometimes impossible ones -- and the issue of his first title will not be treated differently. More power to James for having the mental focus to keep his eyes on the prize during a season full of distractions, but if he thinks or hopes that people will turn the other way if he wins his first title this season, he's nuts.