Pacers-Heat Game 2: Ironically, the Heat think the Pacers celebrated too much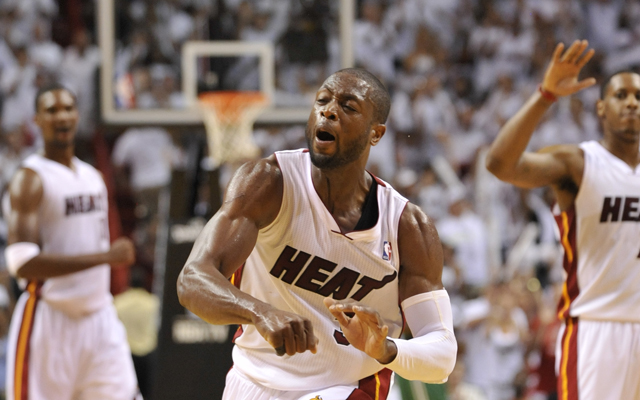 Dwyane Wade is upset with someone else for celebrating. Seriously.
(Getty Images)
When the Indiana
Pacers
defeated the Miami
Heat
78-75 Tuesday night, it was a big win for the franchise. And they reacted to the win, celebrating a close win on the road in the playoffs against a tough opponent when no one believed in them. It wasn't much, but it was enough for
David West
to go screaming and barking at them to get off the floor.
That wasn't that bad. They weren't jumping on top of one another. There was no dogpile. It
wasn't Alonzo Mourning '93
. But apparently it was enough to upset one Mr.
Dwyane Wade
.
From Fox Sports Florida:
"I heard they wanted to be like the Dallas Mavericks, in a sense," Wade said about an apparent reference to Pacers coach Frank Vogel using last year's Mavs team, which beat the Heat in Miami for the title, as motivation for Indiana. "I saw their little celebration at the end of (Game 2). I don't know if they didn't expect to win, but every night we go out on the court, we expect to win."

Wade then was asked about the celebration, but didn't elaborate on what specifically irritated him.

"They say their identity, they say they want to be like Dallas," Wade said. "So they celebrated like Dallas, I guess."
via Wade finds motivation in Pacers' celebration.

You know what? Wade's right. The Pacers haven't won anything. They've only tied the series. This series is far from over, and they haven't even really gained any momentum, just stolen one on the road in an ugly game. I mean, you don't see the Heat doing that kind of thing, right? They're not coming out completely over the top when they haven't accomplished anything... hey, what a second!
Well, OK, but that was just some pyro, they don't act like they've won one, two, three, four... hey, wait a second!
OK, but they were just really excited to get to play together, they haven't really celebrated in a game where they haven't won a series yet. Oops, Game 2 last year. And just so we're clear that this isn't something that started when LeBron showed up:
This in a game where Wade, frustrated with a no-call on a weak foul, took out
Darren Collison
at full speed and then inexplicably was ony given a Flagrant 1 foul
. Wade doesn't need to be taking shots at the Pacers for celebrating. He needs to be upset with his own performance down the stretch going 1 for 5 and 1 of 2 at the free throw line. He needs to be upset with
LeBron James
going 0 for 4 and 0 of 2 at the stripe.
He needs to keep his concerns in-house, because this just comes off as pouting over the fact that for the first time this season things are really difficult for Miami.
Chris Bosh
isn't walking out that tunnel in uniform. If this is how Wade feels about the Pacers now, what's he going to do if they actually win the series?
The Heat celebrated everything before actually taking to the floor. It's why so many people were disgusted and turned on them. It's why they're considered the villain, fair or not. Wade dosn't need to be throwing stones in the house of pyro. He needs to work on his jumper.