Scott Skiles a favorite for the Orlando job?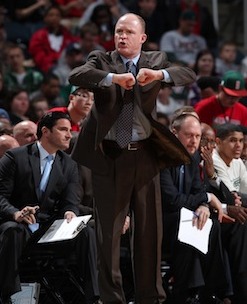 There aren't too many coaches that would eagerly raise their hand to take on the Dwightmare going on in Orlando. But evidently Scott Skiles is one of them.

Via the Journal-Times
:
Those who know Skiles well insist he would crawl to Orlando to be the Magic's coach. Skiles not only has a house in the Orlando area but he played five years with the Magic while becoming one of their most beloved players ever. More importantly, Skiles is one of Richard DeVos Sr.'s all-time favorites.
Skiles has had a bumpy relationship in Milwaukee, but he's set to return to the team next season. However, his confidence level isn't high.
An NBA official told me the other day that Skiles was so convinced he was toast in Beer Town that he cleaned out his office after the season, a season that was an unmitigated disaster, a season that marked the third time in Skiles' four seasons with the Bucks that they didn't make the playoffs.
The Magic front office have said
Dwight Howard
will have nothing to do with the future hires, but here's a chance to prove it. Because it's pretty unlikely Howard would endorse Skiles, a coach that isn't exactly known to be player friendly. He's a tough, defensive-minded guy that's hard on his team.
But DeVos likes him and he's supposed to be the one doing the hiring. Not Howard. So if that's really the case, Skiles should have a shot. Methinks though that the Magic can say whatever they want, but Stan Van Gundy and Otis Smith were pushed out on Howard's order.
Early candidates for the Magic job include Skiles, Jerry Sloan, Mike Malone (Warriors assistant) and Brian Shaw (Pacers associate head coach).