Sixers-Celtics Game 6: Time for a seventh horror show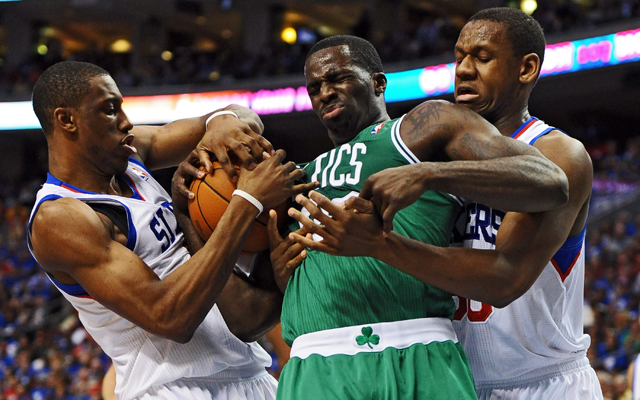 U-G-L-Y. This series has no alibi, it's that bad.
(Getty Images)
The movie
Saw
begins with a pretty basic dilemma. Two men are locked in a delapitated, deconstructed bathroom, with their feet shackled and are presented with strong impetus to be freed from those shackles. There is no key. There are, however, hacksaws near each man. You can figure out the rest of how this works out.
And that's a lot like the Sixers-Celtics series. Playing through it, living through it, watching it is a lot like having to saw your own foot off to get out of a bad situation. It's not an "old school defensive battle." It is not simply fierce defense. It is just bad basketball being played by two flawed teams who are bringing out the worst in each other.
Paul Pierce can't shake Andre Iguodala enough to have a monster game. The Sixers have managed to adjust to Kevin Garnett just enough to throw off his playoff MVP track. Lou Williams can't get hot because he's being flanked at all times. There's no attacking the rim for the Sixers with the Celtics closing the paint. Rajon Rondo can't hit the gear he needs to. It's a disaster for both sides.
Neither the Celtics nor the Sixers are as bad as they appeared in Game 6. It is a special concoction occurring. The Sixers are a bad offensive fit to attack the Celtics' cerebral and hellacious defense because of their lack of a singular, consistent offensive threat. The Celtics are unfit to attack the Sixers' tremendous defense because they are extremely old and incredibly injured. The combination leads to box scores which should be reserved for college games between two untalented teams.
It's a nightmare.
And it's going seven games.
That has to terrify the Celtics just a bit. They feel as though the only reason they've lost control of this series is their own effort level. Boston media speaks of arrogance and effort as if the Sixers have done nothing in this series, but two truths ring solid as the series enters its final brutal frame.
1. The Celtics are the team which can only blow out the other team if they can get out in transition and get their offense humming. The Sixers, conversely, are the team closing out tight games with poise and inensity. If the Sixers can hang, they slip by the Celtics as if they were lost trying to find their car keys. This makes no sense, but neither does this season. Roll with it.
2. Game 7s give an edge to the home team. They give an edge to the more experienced team. But often? They come down simply to whoever is hot that night. It's a coin flip, a game that because of the pressure involved, can go haywire quickly for either team. It's not that the Celtics aren't the favorite, it's that it would take half a quarter for it to completely unravel for them.
So they'll play a seventh game, and we'll all hold back our bile and stomach it, waiting for who will wind up in the Eastern Conference Finals.
Oh, yeah, funny story, the guy who did the unspeakable thing in the movie winds up (presumably but not actually) dying anyway because of a greater threat. How about that.