Spurs finally get a postseason test and, of course, pass with flying colors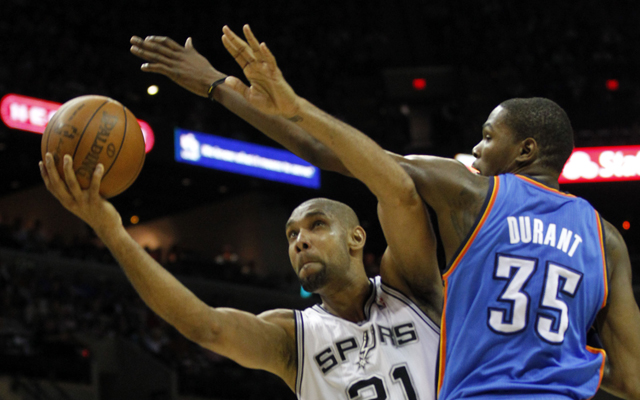 The Spurs passed their first real playoff test in a Game 1 win.
(Getty Images)
SAN ANTONIO -- For the first time this postseason, someone had the Spurs on the ropes.
Like
really
on the ropes. Not an early first half deficit or a close fourth quarter battle. San Antonio trailed by nine entering the fourth quarter as
Kevin Durant
and
Russell Westbrook
foamed at the mouth. The young
Thunder
were starting to roll. The game was in their grasp.
But come on, it's the Spurs. That doesn't happen to the Spurs. Especially not on their home court. Gregg Popovich wanted them "nasty," and he got it in the fourth quarter when it counted.
"I thought we were playing for most of the first half, and even at the beginning of the third quarter, a bit unconfidently, kind of on our heels, a little bit unsure of ourselves, on the dribble too much," Popovich said. "So I talked to them about they've got to get a little bit uglier, get a little more nasty, play with more fiber and take it to these guys."
Finally, they did. The Spurs used a 39-point fourth quarter to dig out of a hole and take a 1-0 lead in the Western Conference finals. And they did in typical Spurs style.
Wherever a big play is needed, it seems that someone finds it. With Durant having his way with rookie
Kawhi Leonard
, veteran
Stephen Jackson
took over that assignment to limit Durant to an 0-2 fourth quarter.
Tiago Splitter
made a couple of big buckets to start the fourth. With
Tony Parker
struggling, it was
Manu Ginobili
who snapped out of his postseason funk to carry the scoring burden with 26 points.
"It just happened," Ginobili said of his breakout. "I don't know how exactly because I haven't scored like this all season long, but it happened and I'm very happy about it."
These are the type of huge things you need if you're going to go 46 days without losing a game. And for the Spurs, it's almost become routine. Expected.
It's that type of thing that's almost built an aura, a mysticism around this team. When you win 19 straight and 30 out of 32, it starts creeping into your opponent's mind that you're unbeatable. Like the Terminator or something, whatever you do, the Spurs will flick the red eye on and just keep coming, and coming and coming.
"It was perseverence more than anything," said
Tim Duncan
.
When you're playing a machine, sometimes instead of taking a game, you're just trying not to give it away. And that was sort of the feeling as the Thunder sputtered and stalled to begin the fourth. They were loose and free in the third, whipping the Spurs in a number of ways. But once the Spurs tightened their grip and turned the screw a bit, the Thunder wilted under the pressure.
"It's tough," said Durant. "We had this game going into the fourth. It's tough, but we can't hang our heads, man. It's a long series. We have to to keep playing, try to get Game 2."
The Thunder proved to themselves and everyone else that they're game against the Spurs. They're obviously the best competition San Antonio has seen in a month and nearly had enough to grab an all-important Game 1. They're good enough to play with the Spurs, good enough to beat the Spurs. But at the critical moment, it was San Antonio making the plays and hitting the shots while the Thunder did not. Same old story in this master vs. pupil matchup.
The Spurs have gotten so good at beating people that Popovich admitted after the game he enjoyed the challenge OKC posed. "We wanted it about 15 games ago; at least I did," he said. Maybe because they're bored, but likely because you don't really know what you're made of until you're tested. And it's pretty obvious what the Spurs are made of.
Forty-six days since the Spurs lost a game. Nineteen straight, 9-0 in the playoffs. Make that 22 and 12-0 and it's yet another trip to The Finals. Something they look absolutely ready to do.