Heat coach Erik Spoelstra: Chris Bosh took 'positive' step with workout but not ready yet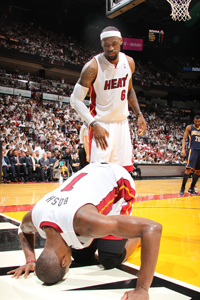 Chris Bosh remains out indefinitely for the Miami Heat.
(Getty Images)
MIAMI -- Let's not get ahead of ourselves.
That was the gist of the Chris Bosh message from Miami Heat coach Erik Spoelstra at shootaround Monday, the morning after the All-Star forward
went through a light workout
at American Airlines Arena for the first time since he suffered an abdominal strain two weeks ago.
"I wouldn't overread into his workout [Sunday]," Spoelstra said. "We'll continue to re-evaluate him every day. He'll continue to do his rehab. When he starts legitimate basketball work, I'll pay attention a little more."
Bosh has been listed as out "indefinitely" since suffering the injury in Game 1 of an Eastern Conference semifinals series against the Indiana Pacers on May 14. The Heat host the Boston
Celtics
in Game 1 of the Eastern Conference finals on Monday night after eliminating the Pacers in six games.
"He just did the next step in the progression of his rehab," Spoelstra explained. "There's still no timetable."
Spoelstra said that Bosh underwent a "light workout" that was "more rehab-oriented" than basketball work.
"It's a positive sign," he said.
Celtics coach Doc Rivers said that Bosh's absence makes Miami "different" but not necessarily "worse" because
LeBron James
and
Dwyane Wade
have the ball in their hands that much more. In the final three games of the Eastern Conference semifinals against the Indiana Pacers, James averaged 32.6 points per game while Wade averaged 33.0, both up sharply from their season averages.
"In some ways, obviously Bosh makes them better," Rivers said. "In some ways you can say they're more dangerous because those 15 shots that Bosh had -- they're going to Wade and LeBron. In some ways, they have the ball more, they're more aggressive. They almost have to be more aggressive, which puts a lot of stress on the defense."

Regardless of how well they've adjusted without him, it's clear Miami wants their All-Star forward back as soon as possible.

"We're going to miss his versatility on offense, his height," Wade said. "It's a luxury we have -- three guys we can go to who can get us a bucket. But we don't cry over spilled milk. We just want him to get healthy. The guys we've got are good enough to win ballgames."
James echoed that sentiment, explaining that the Heat continue their preparations as if Bosh will not be available.
"His uniform is in his locker, we'll be ready for him to go," James said. "Other than that, we plan as if he's not in uniform. That allows us to focus on the guys that are in uniform, and it puts less pressure on him to try to rush and get back. Whenever he's ready, he'll be in uniform."

Wade told reporters that Bosh is "around" and that the Heat see him "every day," even if he's not yet able to participate in Miami's full-speed practices.
"He's in the film sessions, he's getting involved vocally," Wade said. He's getting his mind working ... We were going through walkthrough today -- he had experience going against these guys, especially last year, so he was talking a lot to the fours, guys who are going to guard [Kevin Garnett]."
Last week
, Bosh spoke hopefully about a postseason return.
"I'm just hoping that everyone can keep doing what they're doing and extend the season," Bosh said on Wednesday, according to ESPN.com. "I do have a chance to play again. That's the light at the end of the tunnel for me. That keeps me going every day."
Bosh, 28, averaged 18.0 points and 7.9 rebounds per game for the Heat this season. He appeared in 57 of Miami's 66 regular-season games.