Celtics answer scoring questions with help from bench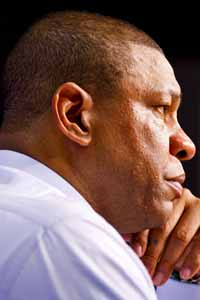 Doc Rivers got great production from his bench in Game 3.
(Getty Images)
BOSTON -- After being held to just 79 points in Game 1 of the Eastern Conference finals, the biggest question facing the Boston
Celtics
was whether they could get into the high 80s to keep pace offensively with the Miami
Heat
.
Putting up 111 points in Game 2 and 101 points in Game 3 quickly turned that concern into a thing of the past. Boston's renewed scoring success even left Heat coach Erik Spoelstra
ripping his team's defense
at practice on Saturday.
This Celtics offensive burst has been both impressive and surprising, considering Boston's offense ranked No. 24 in the NBA in offensive efficiency during the regular season. Entering the Heat series, the Celtics had scored 100+ in just three of their 13 playoff games against the Philadelphia 76ers and Indiana Pacers. Games 2 and 3 mark the first time during the playoffs that Boston has topped 100 points in back-to-back games; you have to go back to mid-April to find the last time Boston accomplished the feat.
While Game 2 was a one-man showcase of
Rajon Rondo
's brilliance, Game 3 saw a much more balanced Boston attack. Rondo,
Kevin Garnett
and
Paul Pierce
all scored 20+ points in Game 3 but the new wrinkle on Friday night was the success of Boston's reserves, who combined to score 19 points and were on the court when Boston pushed open a healthy lead in the opening minutes of the second quarter.
"The second unit came in with a defensive energy that changed the game," Celtics coach Rivers said. "And they scored off the defense. They got stops, they ran the floor, Marquis [Daniels] cut and got to the basket. Marquis made great passes and then we posted him up a couple of times as well."
Daniels' contributions couldn't have come at a better time and couldn't have been more of a surprise. He finished with 9 points, 5 rebounds, 1 assist and 1 steal on 4-for-6 shooting in 17 minutes. Keep in mind: he saw the court for just 10 combined minutes in Boston's last 11 playoff games.
"Marquis hasn't really played a lot for us in this series, but when his name was called upon he was ready," Pierce said. "That's what being a professional is all about... He did a tremendous job guarding LeBron [James] and he even contributed on the offense end and that was huge for us."
Entering Game 3, Daniels hadn't scored 9 or more points since April 24. Indeed, he had scored just 12 points combined during Boston's first 15 playoff games.
"I just have to stay ready regardless," Daniels said. "I stay in every day at the shootaround, come in early and keep working out, because you never now when your number is going to be called. You have to be ready for whenever it it."
Keyon Dooling added 7 points, the most he's scored in a game since Game 4 of the first round series against the Hawks. During his post-game comments, though, he sounded more excited for Daniels than he did about his own play.
"I spend a lot of time with [Daniels] off the court and there are a lot of frustrating nights for him," Dooling said. "But through all the frustration he is able to keep a level of professionalism that is second to none. Imagine not playing much throughout the whole playoffs and having the cardio to play against some of the best athletes we have in our league -- and to be able to excel. I tip my hat to him."
In both his pregame and postgame comments on Friday, Rivers made a point in both his pregame and postgame comments to tell reporters he doesn't expect offense from his reserves.
"Listen, they are not going to put up great numbers offensively, but they know exactly who they are," he said. "They accept that, and they are comfortable with that."
But he wasn't complaining once they produced.
"Marquis was phenomenal tonight," Rivers said. "
Keyon Dooling
was phenomenal. Every guy actually that came off the bench contributed for our basketball team. And we needed it."