NBA Playoffs Report Card 6.6.12: Heat fail again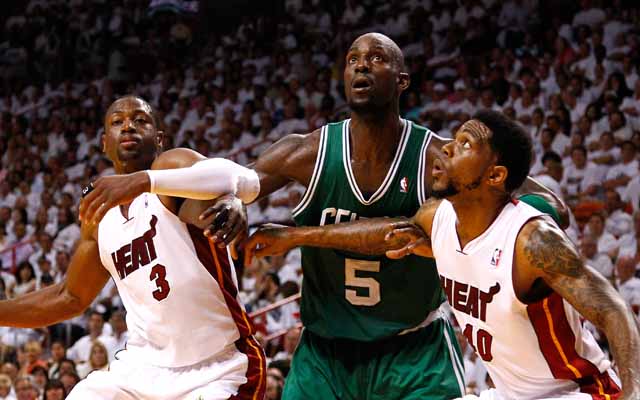 Kevin Garnett fought off all comers Tuesday night.
(Getty Images)
Each night, Eye on Basketball brings you what you need to know about the games of the NBA. From great performances to terrible clock management the report card evaluates and eviscerates the good, the bad, and the ugly from the night that was.


| | | |
| --- | --- | --- |
| | Kevin Garnett | The Big Ticket came through, even at that ripe old age, and made sure to let everyone know about it, too. The Heat never figured out how to front Garnett, how to adjust to him, how to challenge him. The result was another stellar night with Garnett hitting shot after shot after shot and leading the Celtics to the doorstep of the Finals. Garnett's late block on LeBron helped seal the deal as well. Another complete game for Garnett. |
| | Boston Celtics | Not a great game for Boston, not going to lie. But in games like this, you rarely get a great team performance. The other team is too good. And in this instance, the Heat played down to Boston which made them look even better. If nothing else you have to marvel at Boston's poise. When the Heat would make a run, Boston answered slowly, methodically, and emphatically. They would not go away and that knowledge ate the Heat alive. |
| | Paul Pierce | Pierce's dagger was not a good shot. It was, however, the kind of shot he took throughout the game, which lead to a pretty awful night all around. 19 points on 19 shots, but you know what? That 19th shot was what mattered. That's how this game is defined. |
| | LeBron James | Did not take the game over. Did not rescue his team. Did not score more points than field goals in the second half. Did not attack the rim. Did not win. Did not win. Did not win. Another day, another epic failure from the world's most hated MVP. It should have been different, even in a loss, a showing of effort and performance. Instead we were treated to the "the best player in the game sits in a corner" game. He is who we thought he was. |
| | Miami Heat | No tactical adjustments from coach Erik Spoelstra. No dynamic snapback performance from Dwyane Wade. No raucous crowd buying the home team a lift they needed emotionally. No clutch performances from role players. No effort in transition. No victory. No hope. Your Miami Heat. |