NBA Draft Combine: Dozen Questions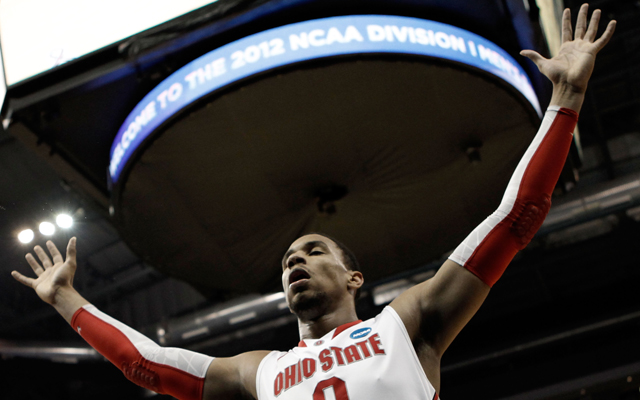 Jared Sullinger's true height and measurements are in question, but won't be after the combine.
(Getty Images)
The NBA Combine gets underway tomorrow and continues Friday in Chicago. They'll be official measurements (height, weight, wingspan, etc.), interviews and plenty of other testing (vertical jump, bench press, sprint, agility). We'll be in attendance and will let you know exactly what goes on -- and what doesn't.
After talking to a dozen or so NBA guys, here are a dozen things that they are interested to see:
1) Measuring up - Thomas Robinson, Jared Sullinger and Bradley Beal's heights are all in question. Each is considered undersized for their position. Beal told me he's 6-4 1/2 (with shoes) while T-Rob and Sully both say they are 6-9 with shoes. We'll see soon enough.
2) Intensity of PJ3 and Big 'Dre -- The knocks on both Perry Jones III and Andre Drummond? Too nice. Too soft. Don't play with a high-motor. Both have an opportunity in Chicago to come in with energy -- and that alone could help elevate their stock since both have high, high ceilings.
3) Harrison Barnes' footspeed - Barnes is considered by many as a one-dimensional player right now: A catch and shoot or, at most, a two-dribble guy. NBA guys want to see whether his foot speed is quick enough that he can be a threat off the dribble at the next level.
4) Royce's Noggin' - Iowa State point forward Royce White has most of the tools (he lacks a consistent perimeter shot), but the key for White won't be on the court. It'll be in the interview room -- where he'll have to convince NBA folks that he's matured and is not an emotional risk.
5) Damian Lillard's Swag - It's a weak crop of floor leaders, but the Weber State star has emerged as the No. 1 guy -- along with Kendall Marshall. It'll be interesting to see whether Lillard has the swagger or shows nerves with being in a setting with all the big boys.
6) The enigma of Terrence Jones - There isn't a player in this draft with more varying opinions than Kentucky's sophomore forward. Some love him -- and other NBA guys say they wouldn't touch him in the lottery. He's certainly worked on his image since helping Kentucky win the national title in early April, but his body language in Chicago will be evaluated by nearly everyone in the gym.
7) MKG's perimeter shot -- It's got a hitch and it's not pretty. ESPN's Chad Ford said he was making shots from long distance in a recent workout. If he can have another good day in front of the NBA people, it could elevate him into that No. 2 spot.
8) Meyers' ceiling - We've been saying it for months. There aren't too many more talented 7-footers around than the Illinois big man. He'll need to show NBA folks that he's got some toughness -- and he'll also need to display maturity. If he does both, he could make his way into the top half of the lottery.
9) Hummel's Knee - After a pair of torn ACL's, Purdue star Robbie Hummel's most significant obstacle will be the medical evaluation that goes on in Chicago. People know he can play. They want to know how healthy his knees are.
10) The Brow's Representation -- Just about everyone has hired an agent -- except for the future No. 1 pick, Anthony Davis. With William "World Wide Wes" Wesley's ties to John Calipari, many expected him to go with Wes' partner/buddy, Leon Rose. However, Rose has signed just one of the 'Cats six guys thus far: Michael Kidd-Gilchrist.
11) Zeller's Speed - There aren't many 7-footers that can run with Tyler Zeller. In fact, Zeller may be able to keep up with some of the guards. It'll be interesting to see the time he posts in the sprint.
12) Elite Athlete - It's always interesting to see who posts the highest vertical of the group. Jeffery Taylor is my pick this year.