Let Westbrook be Westbrook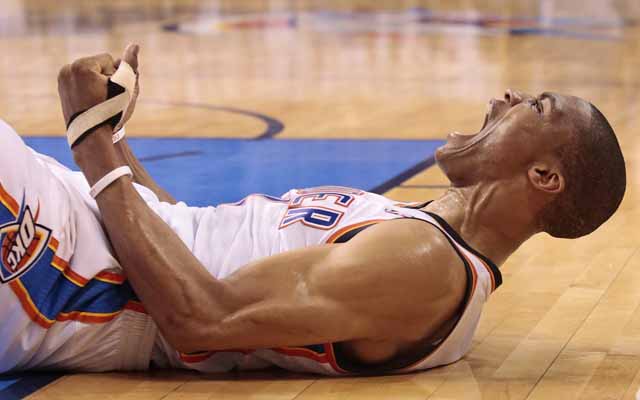 Westbrook's ferocity has helped lead the Thunder to the Finals.
(Getty Images)
All of the blame, none of the credit. Welcome to the life of
Russell Westbrook
.
Westbrook is, has been and will be throughout the course of these Finals the difference between the Thunder simply being one more superstar with a good supporting player and decent role players and a juggernaut contender for the NBA title. There seems a vast misunderstanding of Westbrook and what he provides the Thunder. So, entering the Finals, it's time for the "come to Jesus" talk.
No more asking for him to defer more, to simply surrender the ball on every possession to
Kevin Durant
, to be more of a traditional point guard and less of the speed demon he is. Quit trying to pressure Westbrook into fading away from what has made not only his game, but the Thunder successful in order to fulfill some nebulous, archaic and largely parodoxical concept about alpha dogs.
Let Westbrook be Westbrook
.
Westbrook is never going to be the pass-first pure point that everyone wants him to be. He's not going to be CP3 or Rondo. His internal gearing is constantly set to "kill" mode on the court. He is fearless to the point of recklessness, aggressive sometimes to a fault and as confident in his scoring abilities as any player in the NBA, and I mean any NBA player.
And it works.
You think this is all Durant? That the lanky shooter -- who is without question the best offensive player in the league, but who also still struggles from time to time in establishing position -- could have taken them this far on his own? We criticize LeBron (note: it is now impossible to write about anything without bringing up LeBron for comparison) for having sought out help, while asking for Westbrook to be less of a weapon. We sing the praises of Harden's efficiency, while overlooking that while passing less than in previous years, Westbrook had a higher PER than Harden this season. (Note: PER also rewards high-volume shooters who rebound, which pretty much means it was built for Westbrook, but let's not go too far down that road.)
Without Westbrook, the Thunder are a faster-paced, worse-defensively Cleveland Cavaliers in 2009. No, seriously. Harden is better than Mo Williams was that season in efficiency and percentages, but the role is similar, the production is similar, the team construct is similar. Westbrook is what James was in need of all those years. Fearless, relentless, able to create his own shot and athletic as any player ever.
There have been no conflicts in OKC over the things everyone talks about, no shouts from Kevin Durant about Westbrook's willingness to let it fly. There are no signs of internal dischord or that he team is angry with Westbrook's aggressiveness in looking for his own shot. You need multiple players able to create their own offense. Westbrook is.
Now, can he do so, to a fault? Absolutely. What makes him brilliant is what gets him in trouble. Westbrook is among the players in the league that I qualify as playing in "Hate Mode." There are guys who approach the game with a fun and passion for the sports that make it beautiful. LeBron. Durant. Rubio. Brian Cardinal. You know, the greats.
Then there are guys who look like their only mission in life is to destroy everything in front of them and punish the world for having ever crossed or douted them. Rajon Rondo is the de facto president of his group. Westbrook is Secretary of State. He plays with a viciousness that acts as kind of a contrast to Durant. Durant, the fun-loving, good-hearted shooter with ice in his veins, Westbrook the pretty hate machine that detonates whenever he sees an opening.
In the
Heat
we have a team where the biggest problem can be their tentativeness, their unwillingness to engage offensively. And yet on the other side, Westbrook is critized for being relentless in his attack. Do not be confused, Westbrook can pass. He's added this season a deadly component, the drive, ball-fake and up-under scoop pass. He's created five dunks for
Serge Ibaka
at least that I've seen this postseason with that move. He's got the drive and kick. He's got the lob, of course. But if you leave that lane open, if you don't get back in transition, if you try and go under that screen in the key, he's going to go for your throat. We should celebrate, not denigrate, that kind of willingness to make your own fate.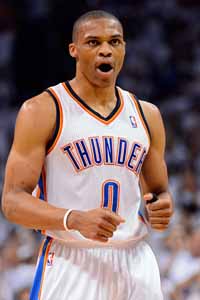 Westbrook's game has evolved this season.
(Getty Images)
There's been a subtle shift this year from Westbrook. The aggressivenes is there, the mistakes have been tempered. He has, time and again, made it clear he understands Durant needs the ball late in the game. At the same time, he's passing less (his assist rate is down 12.8 percent), scoring more. The criticism has actually fueled him to be an even better scorer. He's taken over games to get them back into it or to take the lead in the late third and early fourth quarters. (His work in the third quarter of the Spurs series was nothing short of masterful.) He has his role, important and prominent and often brilliant on this team. But he no longer is so fired up that he's sacrificing the team at the altar of aggression.
...
Well, not all the time.
Look, he's not going to change. He won't become this other player that people dream of him being. What's maybe the most impressive thing about this Thunder team is that they don't ask him to be. There are no leaks to reporters about wishing they had a pure point, there's no signs of Durant expressing distrust or disgust. They're a tight knit group, and Westbrook's near-violent approach to offense is part of their success. They understand that.
It's also mistifying due to how the Thunder's offense is built. With a pure point, would Serge Ibaka get more dunks? Yes. But Durant? Durant works mostly from isolation, face-up out of the post catch, or on the cut. He's not a catch-and-shoot player very often. He needs rhythm, and while we can say the same things about Carmelo Anthony, Durant's willingness to pass makes him that much smarter of an overall player. Westbrook is the spark, the intiator for the offense many times. He's also the biggest victimizer of a defense's lack of focus. Westbrooks' brilliance is in that attack when the game has settled into a rhythm, the opponent makes or misses, and there's just a slight delay in getting back. The next thing you know, Westbrook has gotten the step and it's to the rim he goes.
Are these things possible with CP3? Sure. With Rondo? Absolutely, provided that there's someone for Rondo to pass it to once he gets to the rim when there's even a remote possibility of him being sent to the line, but whatever. But to say the team would be better with those players and not Westbrook?
...
2012 NBA Finals Coverage
Analysis

Related links
More NBA coverage
They're in the Finals! How much better to do you expect them to be?
But it doesn't "feel" right, so we complain. We tear down Westbrook while absolving Durant. In a way, the two teams meeting in the Finals have opposite dynamics.
LeBron James
is the biggest star and no matter how badly
Dwyane Wade
plays, James gets the criticism. Kevin Durant is the biggest star and no matter how passively he plays, it falls on Westbrook to have done more to set him up. It's as if the expectation is for Westbrook to dribble the ball while picking Durant up and helping him establish position with the other hand, then gently placing it in his hands. This isn't to try a knock the best offensive player in the league's game. Durant is the better player by miles. But he can't get the ball every time. It's not how basketball works. Well, outside of New York.
In wins for the Thunder in the regular season, Westbrook shot 21.7 field goal attempts per 36 minutes. In losses? 21.9 field goal attempts per 36 minutes. In the playoffs, losses have yielded 22.3 FGA per 36 while 20.2 FGA per 36 in wins, but considering the Thunder have only lost three times, and two were in fast-paced, high-offense games against the Spurs, it's kind of hard to make a jump that Westbrook shooting is bad for the Thunder. They've come to terms with it. It's probably time that we do, too.
I've criticized Westbrook when he's barrelled into opponents drawing charges late in games in past years. I've questioned his ability to harness his emotions, to control his desire to be "the guy." But his natural growth, no huge changes, just the normal, predictable development of his game into a more mature player has yielded better production, better decisions, and more wins.
The Thunder don't need a different point guard. They don't need a different Westbrook. They've won the Western Conference with the combustible, uncontainable, zero-to-sixty-in-two-point-oh Russell Westbrook. They have what they need. Westbrok will continue to do the work, and not get the fruits of that work. If they win the title, it will be on Kevin Durant's shoulders. Every shot will be questioned, every mistake over-amplified. But in the end, the Thunder will continue to do what has brought them to the very cups of a championship.
Let Westbrook be Westbrook.