Derek Fisher: I talked with Heat president Pat Riley before signing with Thunder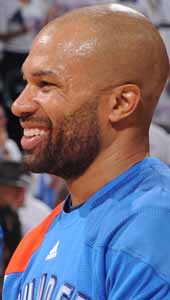 Thunder guard Derek Fisher talked to Miami.
(Getty Images)
OKLAHOMA CITY --
Derek Fisher
, 5-time NBA champion, was shopping for winners.
Back in March, the Los Angeles Lakers traded Fisher and a first round draft pick to the Houston Rockets in exchange for Jordan Hill. Fisher never reported to the Rockets, instead agreeing to a buy out of his contract that would allow him to become an unrestricted free agent and pick his own destination.
Within days, Fisher, 37, had signed with the Oklahoma City
Thunder
, filling in a reserve point guard hole that was created when
Eric Maynor
tore his ACL in January. Over the last three months, Fisher has worked his way into the rotation, providing his late-game shot-making on offense and savvy charge-taking abilities on defense. In 15 postseason appearances for the Thunder, Fisher has averaged 6.5 points, 1.6 rebounds and 1.4 assists in 21.2 minutes.
On Monday, as the Thunder prepared to host the Miami
Heat
for Game 1 of the NBA Finals, Fisher said that he had multiple conversations about possibly joining the Eastern Conference champions before eventually signing up with Oklahoma City.
"I'm happy with my decision," Fisher said. "Not just because I'm standing here right now, but coming here and spending the last few months with this team, the type of guys and the type of people are here. The type of people the coaches are, management, it was just the right decision for me."
Fisher said that he communicated "directly" with Heat president Pat Riley and that his agent was also involved in talks.
2012 NBA Finals Coverage
Analysis

Related links
More NBA coverage
"It's always serious," he said of the conversations. "I take it seriously. It just wasn't a fit at that time for the team. As I went through the process, I learned that [the Thunder] would be a better fit for me from a number of different perspectives."
The Heat start
Mario Chalmers
at the point guard position with rookie
Norris Cole
in the back-up role, although Cole has played just 8.4 minutes per game in 15 appearances during the 2012 playoffs.
In March, Miami was in the midst of a search for a big body, as they worked out a number of players, including Rasheed Wallace and Shavlik Randolph, after parting ways with Mickell Gladness.
"Pat is a straight shooter," Fisher said. "He let us know that they were looking more so for a big guy and that they were happy with the play of Chalmers and Norris Cole. Those two guys are doing a great job for them. It made sense to me."
Ultimately, Miami signed free agent big man
Ronny Turiaf
after he was released by the Denver Nuggets following a trade deadlien move from the Washington Wizards. Turiaf has averaged 2.1 points and 2.7 rebounds in 10.7 minutes in 11 postseason appearances.