Fox denies report that Heat are set to ink potential $100M per year TV deal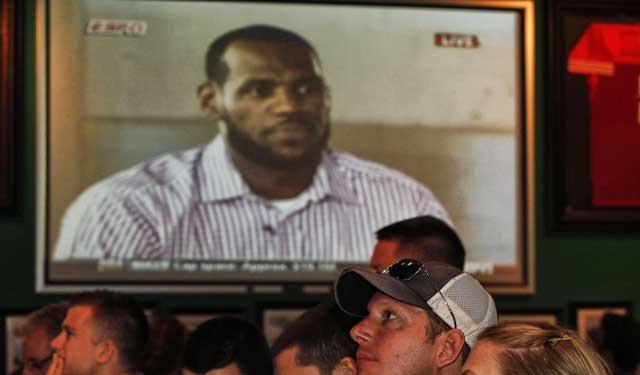 The Heat have been must-see TV since LeBron James' decision in 2010.
(Getty Images)
Time for some ca-ching with the rings.
The Miami Heat are one win away from becoming the 2012 NBA champions. They are also reportedly nearing a new television contract that could be worth up to nine figures per year.
The Miami Heat are in discussions for a blockbuster cable television deal that experts say is being enhanced by the long-term contract the team has with reigning league MVP LeBron James and its run towards a second NBA title.

Sources familiar with the negotiations, but who do not have permission to speak about them publicly, peg the value of the long-term deal between $80 million and $100 million a year with Fox Sports Florida. Although the Heat's new deal will only be about half the amount Los Angeles Lakers are going to get from Time Warner Cable, it will still generate at least over four times the revenue the team currently rakes in.
On Thursday, a representative of Fox Sports Network denied the report, saying that it bears "no truth whatsoever" and that "no discussions" are currently taking place because the Heat's current deal has "several years remaining" before it expires.
The Lakers set the bar when it comes to television money, signing a 20-year contract with Time Warner Cable worth a reported $3 billion back in 2011.
The timing for a new deal makes all the sense in the world. The Heat made back-to-back Finals appearances in their first two years since landing LeBron James during the summer of 2010, and all the key pieces are locked up through 2013-14 at the least, and possibly 2015-16 if everything continues on smoothly. The only real challenger facing Miami in the East is Chicago at this point, so the Heat's reign on top shows no sign of ending, even if All-Star guard Dwyane Wade is starting to show the first signs of aging.
This all comes back to James, though. He won his third MVP in four seasons this year, he has carried the Heat through the playoffs with consistently extraordinary play and he's set to enter his prime years over the next 3-4 seasons. The NBA Finals television ratings are up and, in some cases, record-setting. The man's presence simply prints money.