Warriors GM Bob Myers expresses interest in signing Brandon Roy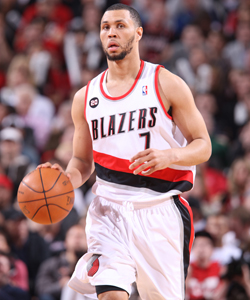 The Warriors are interested in Brandon Roy.
(Getty Images)
The Brandon Roy comeback tour has its first on-the-record suitor, and it's a familiar face.
Golden State Warriors GM Bob Myers, former agent to Roy, tells CSNBayArea.com that his team is interested in potentially signing the guard this summer.
"It's a possibility," Myers answered, when asked if the Warriors would have interest in Roy. "He's an easy phone call to make."

"I told (Roy) when he was amnesty-ed … 'I hope this isn't it for you. Make sure this isn't it. He's said publicly he wants to come back, so I'll start to talk to him. It depends how everything goes for us and what his expectations are and all of that. But absolutely I'll talk to him."
Roy is an unrestricted free agent after the Portland Trail Blazers used the amnesty clause on him back in December 2011. He cleared the amnesty bidding process and elected to unofficially "retire" due to ongoing problems with both of his knees. Roy posted career averages of 19.0 points, 4.7 assists, 4.3 rebounds and 1.0 steal in 35.6 minutes per game during five seasons with the Blazers.
He's been making noise since February that he would consider an NBA comeback and, at 27, it's not all that surprising that the 3-time All-Star and 2007 Rookie of the Year has a basketball itch that needs to be scratched.
The questions are the same ones that have faced Roy since his final season with the Blazers. Can his knees hold up to a starting role? If not, can he manage to make it through a season in a limited role off the bench?
The fit in Golden State is interesting. Second-year coach Mark Jackson is dealing with big expectations from ownership and a fanbase that is sick of watching the Warriors crash and burn into the Lottery every season. Starting point guard Stephen Curry is dealing with chronic ankle injuries and star two guard Monta Ellis was moved to the Milwaukee Bucks at the trade deadline.
In other words, Roy's ball-handling, play-making and shot-making abilities would be of use to Golden State. His high basketball IQ, high character and playoff experience would also surely appeal to Jackson. It's also likely that the Warriors will be at or over the salary cap next season and Roy, coming off a "retirement," is likely to come at a bargain basement price.
One potential hang-up is pace. Roy prefers an ultra-deliberate, halfcourt game while the Warriors played at a top-10 rate last season. Another is personality. Roy is used to being an Alpha Dog, as he was for the vast majority of his career in Portland. Is he willing to accept a smaller role on offense?
Above all, there's the question of whether this is simply Myers doing a favor for a friend and former client who has been through an excrutiating and emotional last few years. The skeptic would say that he's just trying to help jumpstart the comeback tour for his buddy. On the other hand, Myers would be the first to know if Roy wasn't serious about getting back on the court and he would likely be the last person to create unnecessarily high expectations for Roy. No one, agent or otherwise, would set up a friend or associate to fail if there wasn't some possibility of things panning out.
The only certainty: the off-court answers will come during the July free agency period.