The reclamation of King James' kingdom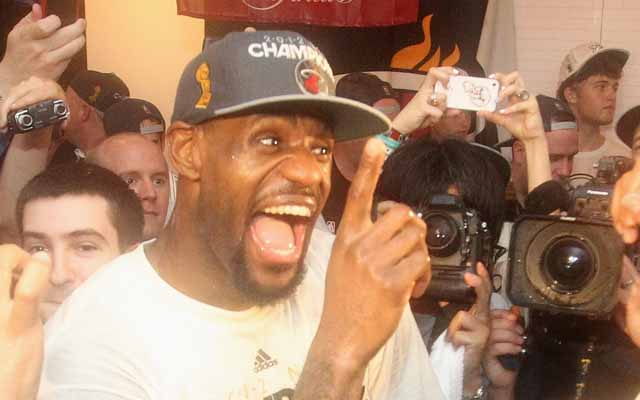 Can LeBron James reclaim his popularity?
(Getty Images)

LeBron James will appear on the Late Show with David Letterman this week, beginning his promotional tour as NBA Champion and Finals MVP. It's a standard run for anyone who holds both trophies, but for James it is significantly more. It's the start of this next level in the rehabilitation of his image.


More on LeBron James
Related links
To preface this, some people, and when I say some people, I mean some of you, will never stop disliking, even hating LeBron James. Some things burn too deep, some people are just not the forgiving types to anyone, let alone professional athletes. Burning your homestate franchise to the ground on national television, then proclaiming you would win multiple titles in a preseason introduction event complete with pyro, and then saying after you failed how everyone would have to go back to their little lives, well, those things are just not things you can come back from in the eyes of some people.

James has buried himself too deep a hole for some, but then, the same is true for many modern athletes for various reasons, some fair, some not. Mark McGuire, Barry Bonds, Kobe Bryant, Michael Vick, some of the most profile athletes of our time are highly controversial figure. That James has managed to reach such a divisive level given that he has broken no laws speaks to both our priorities and either our sense of empathy or the venom gland that lives within us all.

So, no, winning a title will not change anything for a lot of people. Certainly no one in Cleveland, and few in Boston, New York, Chicago, L.A.

But make no mistake, there is a reclamation of James' popularity taking place. He's described hitting rock bottom and returning, and while James' low-point was nothing more than "he had a bad series and felt really bad about himself," it's still a redemption story. We're a sucker for that.

The reclamation of James didn't begin with his hands holding up the trophy. In truth, it began in Game 6 of the Boston series. That was the moment when the world was supposed to crush James. Writers had prepared the headlines.

"Video: LeBron James misses clutch free throws in Game 6 choke job."

"LeShame's Championship dreams ruined by Boston, again."

"LeBron Fails again."

Yeah, not so much. In the moment where he was supposed to validate every negative thing ever said about him, he instead became the mega-alpha he was always told to be. He ruined Boston. That series was over at that point. James hitting jumpshots? What are you going to do?

James stepping up didn't earn him likeability points, but it did earn him respect. It got him back to about a negative two in a lot of people's minds, versus the negative fifty he had been at up until that point since Game 6 vs. Dallas last year. Winning the series got him to a negative one.

Winning the title validated him in a lot of people's minds. All they ever wanted was for people, media, fans, whoever to stop proclaiming James as great till he won a title. Nevermind how good he was at basketball. Some people will never get over the rings argument. It's too embedded in our culture.

So now, he's a different person in our society. He's a winner. He's a champion. He can legitimately be called the best in his sport. And people will gravitate to that, find reasons to like that, find reasons to pull for that. We like greatness. We prefer greatness after struggle. James fulfills both requirements.

So now the promotional tour begins, and you can expect the conversation to start shifting. His Q score will rise. The jersey sales both domestically and internationally will go up. If Nike's right, they'll pounce with a self-deprecating commercial that also validates him as a champion. And all of this will be the pay off of efforts throughout the year.

James has reportedly been working with a new PR agent to rehabilitate his image since last year. He has taken on a different mindset, either personally, or to reporters. The columns on how he's changed are wide-ranging, including CBSSports.com's Ken Berger's. Whether it's authentic or not doesn't matter, because the person everyone hated was equally authentic. It's all about how he appears to be, because in fact, we'll never know who he really is.

He's the person columnists want him to be. He's the player fans want him to be. He's the champion people clamor for.

Welcome to the reign of King James, a kingdom of glory with a people being won over, even as some cling to the resentment of any who would call themselves Chosen.