Bulls officially sign Kirk Hinrich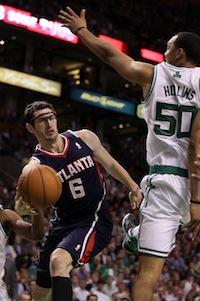 Kirk Hinrich returns to Chicago. (Getty Images)
Very quickly, the signing of Kirk Hinrich in Chicago became a pretty big deal.
The Bulls announced Monday that they have indeed signed Hinrich, reportedly a two-year deal for around $6 million.
After Derrick Rose's ugly knee injury in the playoffs last season coupled with the fact he could be out all the way until March, inking a quality point guard in Hinrich became paramount.
"We are pleased to be able to bring Kirk back to Chicago. His ability to play both spots in the backcourt will help us immensely this season," said Bulls general manager Gar Forman in a release. "Kirk's tenacity and passion for the game complement our style of play, and we look forward to seeing him back in a Bulls uniform."
For Hinrich, 31, this is his second stop in Chicago as he was drafted seventh overall by the Bulls in 2003 and played his first seven seasons there. He was traded to Washington in 2010, then to Atlanta.
"I'm very excited to be back in Chicago and to wear a Bulls uniform once again," said Hinrich in the release. "I look forward to getting back out on the court as a Bull, and contributing to the team in any way I can."
The Bulls will likely be in a bit of a holding pattern until Rose returns and even then, it'll be wait-and-see to how ready he is. But Hinrich will provide them with steady play in Rose's steed, adding a good shooting point guard that can run an offense well.
Last year with the Hawks, he played in 48 games (31 starts) and averaged 6.6 points, 2.8 assists and 2.1 rebounds per game.