Jeremy Lin says Linsanity got into his head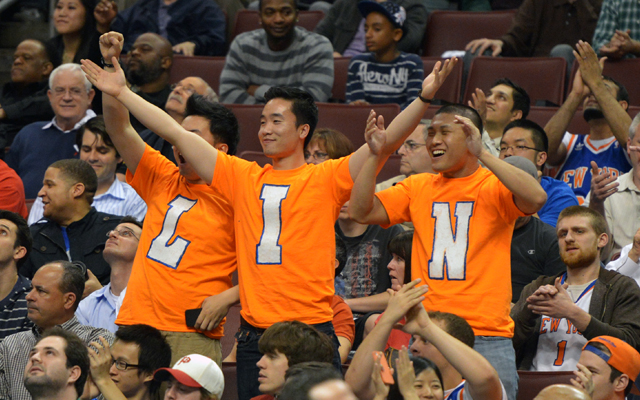 Jeremy Lin admits Linsanity might've got to him a little.
(Getty Images)
To go from a D-League player that was just cut from his second team to the king of New York in a couple short months? That was what Jeremy Lin experienced.
He went from a guy that had something like 10,000 Twitter followers to piling up hundreds and thousands seemingly overnight. He went from nobody to one of the biggest names in all of sports. He went from wondering if he'd get cut yet again to international star. He went from sleeping on a teammate's couch to getting a $25 million deal.
So if he were to admit that some of that hype and noise got to him a bit, would you blame him? Because it did, Lin told the Mercury News:
"If I'm being honest, in some ways, yes (Linsanity did get into his head)," Lin told this newspaper. "I fought it every day. But I think subconsciously it had its effect, everyone catering to you. People were saying only good things for so long that when people said negative stuff, it was like, 'Whoa, what's going on?'"
Self-awareness is key for anyone, but especially someone in Lin's position. And for him to realize and understand it is probably a really good thing. It would seemingly be impossible for it not to go to your head. He had Nike printing "Linsanity" shirts, he had sponsors crawling over each other to sign him, he had millions of dollars just waiting for him to scoop up. And in the end of it all, he had to play point guard for the Knicks and try and help them win games.
I would say Lin did a pretty terrific job of handling the rush, even if he thinks it got to him a bit. He only ended up picking three sponsors, when he could've picked 30. He said the right things, did the right things. He limited interviews, he didn't hit the late night talk show circuit and as the article notes, he even did things like pick up trash on the team plane, volunteering to carry bags and opening doors.
But with his new three-year deal with the Rockets, he knows he's back to having to prove himself. Gone is the Disney story of rags to riches. Now he's rich, he's known and the only thing he can do in a lot of eyes is disappoint. And he knows it.
"I will always, always have doubters," Lin said. "But I really want to reach my potential to bring glory to God. That is more motivation than haters and doubters. I want to work just as hard, give just as much, whether or not I have haters."
It's the rise and fall of sports. It's how it works. You get built up to god-like status for what seems to only be to tear you back down. Underrated until you're overrated until you're so overrated you're underrated again. Hyped, de-hyped and re-hyped. It's how it goes and Lin knows it all too well.
Head to Houston and play solid and there will be those who say he's not worthy of his money. Play poorly and the Knicks will be crowned for making the right choice and the Rockets scoffed. Play great and it'll be because he's the only player Houston has. There will remain a way to doubt Jeremy Lin, if you want to.