Warriors re-sign Brandon Rush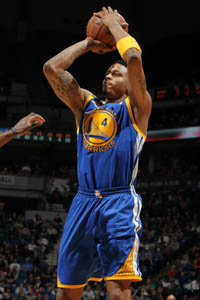 Rush returns to the bench for Golden State.
(Getty Images)
The Warriors have re-signed Brandon Rush to a two-year, $8 million deal with a player option for the second year, as Ken Berger of CBSSports.com reports. His agent confirmed Rush re-signing with Golden State.
Rush exploded as a crack shooter last season after several disappointing seasons in Indiana. He shot 50 percent from the field and 45 percent from the arc, averaging 13 points per 36 minutes for the Warriors, and joins a suddenly deep bench for the Warriors that features Jarrett Jack, Richard Jefferson, and Carl Landry. Rush provides a quality shooter off the bench to back up Klay Thompson and Harrison Barnes.
The Warriors manged to make substantial upgrades to their team without giving long-term deals to any free agents and then picking up the best leftovers of the free agency period. Both Car Landry and Rush were at the top of the remaining players available, and the Warriors go them both on cap friendly deals that let the players walk if they increase their value.
Rush has proven to be a nice salvage job for the Warriors, who got him for very little in trade and now get him for at least one more season at below-average price.