Kobe Bryant signs autograph for Tunisian player
You might think scoring 11 points against Team USA would be the highlight of Mohamed Hadidane's day.
But you'd probably be wrong.
After the United States crushed his Tunisian squad 110-63, Hadidane got in line to shake hands. Except he had two things in his: a pen, and a shoe. And when he got to Kobe Bryant, he didn't show any restraint. He geeked out and asked Kobe for an autograph.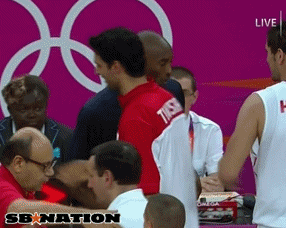 Best part: The shoe Hadidane had autographed was the shoe off his own foot. It wasn't like he brought an extra or had a trainer get him a leftover. He just stood there barefoot in line with his shoe in his hand waiting for his turn. If he's wearing the autographed shoe in Tunisia's next game, well, that'll just be the best.
You never who the autograph might be for. It could be for Hadidane. Maybe he's trying to win Dad of the Year and it's for one of his kids (if he has kids). Maybe it's a birthday present for his wife or girlfriend. Maybe he's trying to get a wife or girlfriend with it. Or maybe he grew up idolizing Kobe and saw an opportunity.
Whatever his reason is, good move, Hadidane.