USA takes exception to Argentina hitting Carmelo Anthony below the belt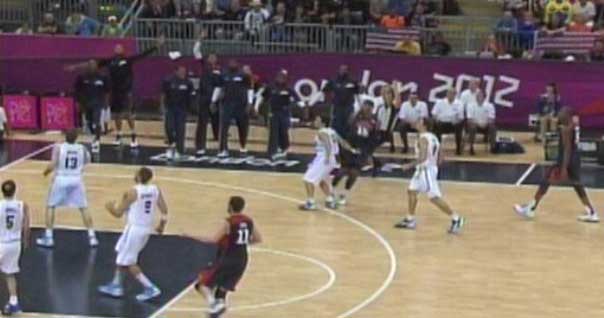 Argentina's Facundo Campazzo contacted USA's Carmelo Anthony below the belt.
(NBC)
Hey now, that's not the Olympic spirit.
Facundo Campazzo of Argentina appeared to deliver a below-the-belt blow to Carmelo Anthony of the United States during Group A play at the 2012 London Olympics on Monday.
With the USA leading 99-76 and less than two seconds remaining in the third quarter, Anthony hit a 3-pointer from the right angle in front of his team's bench. As Anthony lined up the shot, which came after USA quickly pushed the ball of an Argentinian miss, Campazzo, a 21-year-old guard who plays professionally in Argentina, closed out hard. In so doing, he extended his right hand towards Anthony and apparently contacted him in the groin. Anthony doubled over in pain immediately, although no foul was called on the play.
"It was a cheap shot," USA center Tyson Chandler said after the game, according to the New York Daily News.
"He got hit," said coach Mike Krzyzewski. "Look at the tape. I know, but I didn't see it. I would like to see the tape. He got hit in the groin. That is why he buckled over. He wasn't celebrating his shot."
Kevin Durant, Andre Iguodala and other USA players rushed over to check on Anthony, who briefly lay on the court as the third quarter came to a close. Durant and other members of team USA then began gesturing towards and arguing with Luis Scola and other members of Argentina's bench while Krzyzewski appealed to the referees regarding Campazzo's blow.
With the crowd beginning loud chants of "U-S-A" and, strangely, Anthony returned to his team's bench, loudly barking like a dog.
Monday's game continued a history of physical play between the two teams. Afterwards, Argentina reportedly claimed that Campazzo's shot was not the first of its kind delivered during the game.
"Campazzo got hit in the nuts, too," Scola claimed, according to the Sporting News. "That stuff happens."
USA guard Chris Paul reportedly was the deliverer of that blow.
"I give Argentina a lot of credit they pushed us they made us compete and that's what you want to do," Paul said after the game. "I love it, I love it. When it got a little chippy here and there it gets you excited and it really lets you know you are on the Olympic stage playing for a gold medal."
USA went on to defeat Argentina 126-97 in its fifth and final Group A game. USA (5-0) now advances to the knockout stage of the tournament as Group A's No. 1 seed and will open against Group B's No. 4 seed Australia (3-2). Argentina (3-2) finishes as Group A's No. 3 seed and will face Brazil (4-1), Group B's No. 2 seed.
Here's video of Campazzo's blow to Anthony via YouTube user AnezBitt. Hat tip: TheBigLead.