NBA Offseason Reports: Boston Celtics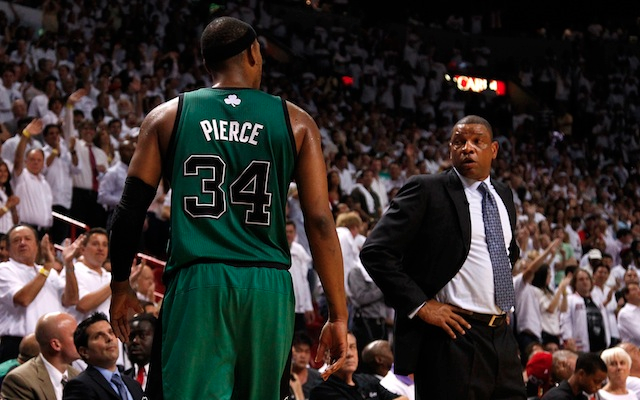 Boston was asked, and answered, a bunch of questions.
(Getty Images)
Over the next month, CBSSports.com's Eye On Basketball will take a team-by-team look at the 2012 NBA offseason. Next up: the Boston Celtics.

I. How they finished 2012: So, soooooooooooo close. So close. Painfully close. Excrucia--- you obviously get the point.
With Game 6 at home against a Miami Heat team with as much pressure as you could possibly ever have on them, the Celtics watched as LeBron James put in one of the transcendent performances in playoff history. They not only couldn't stop him, but they couldn't even stay close.
But that was still only Game 6. With a chance to atone in Game 7 and take the Big Three back to the Finals, the Celtics came up short again, even after holding a solid second half lead. The offense died in the fourth quarter, Rajon Rondo ran out of gas and the Heat danced on en route to an NBA title that eventually was the death of the Boston Big Three as Ray Allen then joined the enemy.
Pretty brutal finish to the season right there.

II. Needs entering the offseason: Interior depth, versatility, bench depth, youth, new knees for Kevin Garnett, athleticism, size.
Simply put, for a team as veteran and solid as the Celtics, they had some major questions entering the offseason. They were ravaged by injury in 2011-12, but a lot of that was because they were relying on older players with injury history and mileage on them.
A quality roster was already in place, but the window has been closing on this team for a while. And Danny Ainge was at the crossroads again, forced to decide whether or not to extend the life of the current core or begin a rebuilding project.
With players open for free agency, Boston could go different directions and that was going to dictate what their needs really were. Since they elected to try and continue to compete, adding depth, size and some wing versatility were the top priorities.

III. The Draft: Sitting with two picks in the first round at 21 and 22, the Celtics had options. Moving into the lottery was one, but it was going to take more than just those picks. Instead, Ainge decided on keeping both picks and adding two players with size.
At 21, Boston took Ohio State All-American Jared Sullinger, a player projected as the top pick two years ago before he returned for a sophomore season. And he likely wouldn't have dropped to the spot he was had it not been for a medical red flag on a back issue. While he's a bit undersized for power forward and there have been questions about his weight, Sullinger is extremely gifted, an underrated rebounder and someone that will certainly contribute as a rookie. In terms of what the Celtics needed, Sullinger was an ideal pick.
At 22, Boston selected 7-1 Syracuse big man Fab Melo. Kind of a reach as Melo had his issues in college and definitely wasn't a dominating presence, but he's got a lot of size and the potential to be a strong defensive player. The Celtics were hunting for depth on the inside. It was a major issue for them last season after losing a few players to injury. And they remedied it just about as best they could in the draft.
IV. Free Agency: After the Celtics locked Garnett up to a three-year extension, it was clear they were moving ahead with the current core. The question after that became, would Ray Allen remain part of it?
The answer was no, but Boston countered well by adding both Jason Terry and Courtney Lee. Outside the fact Allen has been a cornerstone to the team the past five seasons, you could make a case that Boston actually improved. With the emergence of Avery Bradley who was going to take a lot of Allen's time as is, the Celtics came out just fine, other than the emotional hit of Allen leaving.
Boston also re-added Jeff Green, who is quietly an excellent signing because he gives Boston a body to toss on LeBron. Also re-signed: Brandon Bass who has become an important big in Doc Rivers' rotation.
Keyon Dooling re-signed, Jason Collins was added for a little veteran depth and size and Chris Wilcox was brought back after missing the end of last season with an injury.

V. Overall grade and accomplishments: A-. It wasn't necessarily a banner offseason that's going fire up the fanbase or immediately rocket the Celtics to the top of the Eastern favorites list. But in terms of keeping them competitive in the East and at least giving them a shot against Miami, Boston was successful.
Giving up on the roster nearly happened at multiple stages last season, and I'm sure there was that temptation following the season. But the Celtics were painstakingly close to advancing to the NBA Finals. This team might be older, but it's still good.

And while losing Allen certainly leaves a bitter taste, as Paul Pierce said, the Celtics probably have improved. Quite significantly, potentially. If Jeff Green shakes off the rust, he's going to add a whole new dimension to the team. Bradley is coming into his own. Terry is still a big shot taker and maker. Courtney Lee is instant offense.
As long as the bigs inside can hold up against the likes of Indiana and Chicago, the Celtics should be right back in position to contend in the East. Which is right where they want to be.