NBA Offseason Report: New York Knicks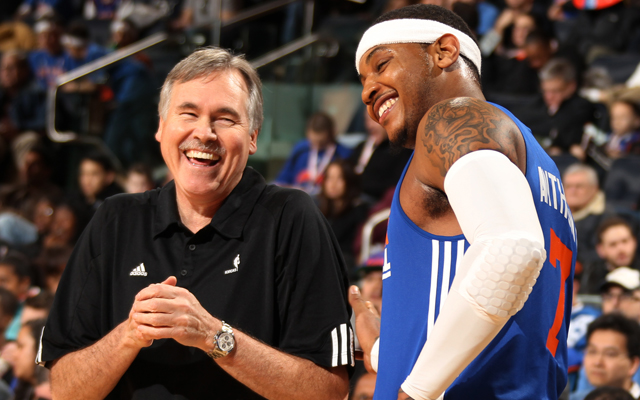 Remember happier times.
(Getty Images)

Over the next month, CBSSports.com's Eye On Basketball will take a team-by-team look at the 2012 NBA offseason. Next up: the New York Knicks. You can find our offseason reports here.
I. How they finished 2012: When you say it was a tumultuous year even for the Knicks, you're really saying something.

After a hot start to the season, the Knicks fell into a deep slide. Both Amar'e Stoudemire and Carmelo Anthony fell into injuries which consistently held them out. Just when all hope was lost, enter Jeremy Lin.

When Linsanity came, suddenly the Knicks were a whole new team. They were excited and enthused, ready to take on the world. The Lakers, the Mavericks, good team fell at the hands of the new-look Knicks. Adjustments were made to defend Lin by the better teams, but with Anthony and Stoudemire slated to return, who knows what could happen?
More on New York Knicks
Related links
More NBA coverage

Yeah, and then everything crashed into the ocean again. Lin and Anthony didn't mesh (shocker), the team struggled, and then bam, Mike D'Antoni reportedly told ownership he wanted to trade Melo. When it was clear that wasn't going to happen from the CAA-heavily-influenced Knicks, D'Antoni walked. Mike Woodson took over, threw out a new ISOMelo offense, Lin got hurt, and the Knicks caught fire late behind some Anthony fireworks.

But because that kind of approach isn't sustainable, the Knicks were destroyed by the Heat in the first round.

II. Needs entering the offseason: With Jeremy Lin a restricted free agent and Baron Davis just about done after a knee injury, point guard was the biggest concern. They needed depth down low, particularly for rebounding and defense, and they needed shooters, with Iman Shumpert out for nine months to a year after knee surgery and J.R. Smith a free agent.

And they needed a coach, along with some overall depth to fill in around the new "all Melo, all the time" plan.

III. The Draft: As is often the case, the Knicks did not have a first-round draft pick, which was sent to Houston in the Tracy McGrady deal. In the second round, they drafted Kostas Papanikolau. They later sent him to Portland in the deal for Raymond Felton. Good times.

IV. Free Agency: OK, here's where things got nuts. They were going to make a move for Steve Nash, and were considered a front-runner, alongside the Raptors. To block a sign-and-trade, the Raptors signed Landry Fields for $20 million, an outrageous number. With the Knicks unable to complete the deal, Nash whisked off to the Lakers (where he was likely going to end up anyway with his daughters living there). So the Knicks then turned and acquired Jason Kidd.

Kidd's abilities have slipped and he became more of a game manager and spot-up shooter later in his career, but last year even his three-point shooting dropped back down. The plan was for Kidd to be the veteran presence for Jeremy Lin, who they were clearly, obviously, make-no-mistake going to re-sign no matter what happened.

Yeah, about that.

The Rockets came to terms with Lin on an offer sheet, and then adjusted it later with a "poison pill" to jack up the price of the third year for the Knicks. But there was no concern, because the Knicks print their own currency and there's no way they were going to miss out on the marketing potential of Lin for a few extra dollars in the third year.

Then all hell broke loose.

On a Saturday night, word leaked that Raymond Felton had told a reporter he was closing to signing with the Knicks in a sign-and-trade, and that Lin would not be re-signed. Hours later, the full details of the sign-and-trade came out, and indeed, Felton was headed to the Knicks. But there was still some doubt that the Knicks were going to let Lin go. Finally, they elected not to match the $25 million offer sheet and let Lin walk, shocking just about everyone.

Reports would later surface that the Knicks were hurt by how Lin conducted the negotiatons, and that he had helped the Rockets put together an offer that was worse for their long-term flexibility than the original offer. Lin pleaded innocence throughout the process, saying he signed what was in front of him.

So to recap: The Knicks went from Jeremy Lin and Steve Nash to Jason Kidd and Raymond Felton in a month. That tells you a little about how this offseason was for the Knicks.

They also got J.R. Smith back at an absurdly cheap price and signed veteran reserve center Marcus Camby to fill that hole at rebounding and defense down low. They made Mike Woodson the official head coach, removing his interim tag. In a related story, Mike Woodson switched representatives to CAA.

They also signed 35-year-old Argentinian point guard Pablo Prigioni, and landed very capable veteran wing Ronnie Brewer for cheap. They re-signed master of the "Discount Double-Check" Steve Novak as well, and landed Kurt Thomas along with Felton.

V. Overall grade and accomplishments: C+

The Knicks didn't get worse, per say. They added depth, they added experience, they didn't overpay for Lin, which is to be commended.

But did they get better?

Losing Lin is a loss. It just is. It's possible he never recaptures that magic he had those few weeks in February. But it was worth it to try. For a franchise that has historically and consistently not cared a bit about how much money they spend, to become frugal over a guy with that kind of upside and the way the fans reacted to him is almost cruel.

Getting Smith back on a cheap deal? Fantastic. Adding Camby? Great move.

Felton comes with a lot of, ahem, baggage, but he was also very productive in New York and when motivated to keep his conditioning up, can be a really solid player. He and Amar'e Stoudemire worked well in the pick and roll once they figured it out before Felton was traded. There are risks, but he's a veteran player. It's just such a letdown for Knicks fans to go from Lin to Felton.

If the veterans stay healthy and don't slide off the map, this team could improve on 2012. If any of it goes wrong, or if the plan to let Melo do as Melo is wont to do fails, it could get messy in a hurry.

The Knicks didn't fail this offseason.

They just didn't quite pass with flying colors, either.