Report: Nike's enhanced LeBron James signature sneaker to cost $315?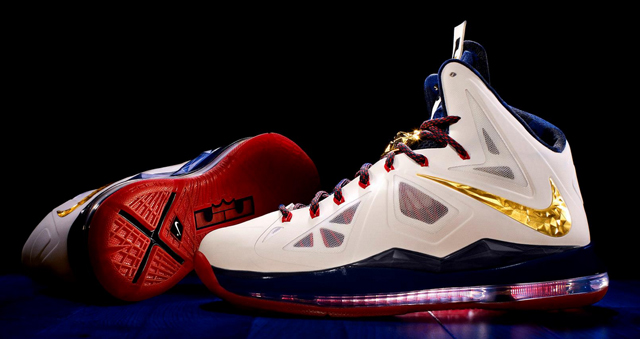 The LeBron X: Nike's latest signature shoe for LeBron James.
(Nike on Facebook)
If you want to dress up your feet like a champion, it'll cost you more than ever.
Nike will release the latest iteration of LeBron James' signature shoe -- the LeBron X -- later this year, and an enhanced version of the shoe featuring motion sensing technology will reportedly cost as much as $315. The sneaker's base model is expected to retail for $180, up from $170 last year, according to NikeBlog.com.
The Wall Street Journal offers this report.
As labor, materials and shipping costs increase, Nike is raising shoe and clothing prices by 5% to 10%, analysts say. A test of the ap proach comes this fall, when Nike will debut its priciest sneaker yet—an expected $315 LeBron James basketball shoe that includes its own electronics.

Nike is "not arbitrarily taking up prices," said spokeswoman Mary Remuzzi. "We are constantly looking at ways to enhance the product line with new innovation and product attributes."
ESPN.com reports on Tuesday that the motion sensor-enhanced sneaker could retail for $290, citing an industry source. Nike reportedly would not confirm either price or comment on the price of the LeBron X.
Later Tuesday evening, Ken Berger of CBSSports.com obtained a statement from Nike that confirmed the LeBron X base model will retail for $180. The statement said that the price for the enhanced model was "still being set," calling reports of a $315 price point "inaccurate."
The "Nike Plus" version of the LeBron X will allow the sneaker's owner to track his or her quickness, vertical leap and explosiveness, according to a Nike ad released this summer. Sensors in the shoe relay information to a Nike smart phone app using Bluetooth technology.
"Quickness, hustle, vertical, Nike Plus basketball tracks them all," James says in the advertisement. "How high you jump, how quick you are and how hard you play. So you can compete against your friends, your rivals and yourself, every time you play. Nike Plus basketball allows you to see your game like never before."
The expected price hike for the sneaker comes on the heels of a career year. James, 27, averaged 27.1 points, 7.9 rebounds, 6.2 assists and 1.9 steals on his way to his first NBA title and his second Olympics gold medal. He was also named 2012 NBA MVP, 2012 NBA Finals MVP and named to the 2011-12 All-NBA first team and the 2011-12 All-Defensive first team.