Dwight Howard tweets that he plans to work out with Kareem Abdul-Jabbar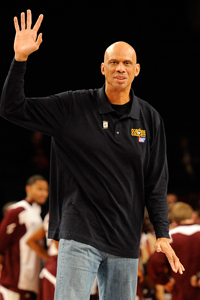 Cap could work with Dwight in the future.
(Getty Images)
There was a lot of talk with Andrew Bynum about his relationship with former Lakers great, Kareem Abdul-Jabbar. Bynum worked with Cap for several years but eventually broke off the sessions, something Abdul-Jabbar has made repeated references to. With Dwight Howard in town, there's a chance for a new great Lakers center to build a relationship with the all-time leading scorer in NBA history, and in a session where he tweeted with fans, Howard confirmed that he plans on getting in a few sessions with Kareem.
LakersNation.com shared Howard's affirmative response to a fan who asked if he'd workout with Abdul-Jabbar.
Granted, there's no way to know when Howard will be released to do so. He's still not cleared for play on the court after back surgery and there's talk it could keep him out all the way into the regular season. In that case, Howard wouldn't be able to find time to get with Abdul-Jabbar until next offseason. Howard's already accepted as the best center in the league, so it's not a considerable deal, and he's had multiple sessions with Hakeem Olajuwon. But at least he's open to the prospect. Maybe this will end better than it did between Bynum and the temperamental Kareem.
(HT: IAmAGM.com)