EOB Presents the NBA Elite 100: No. 29 through No. 20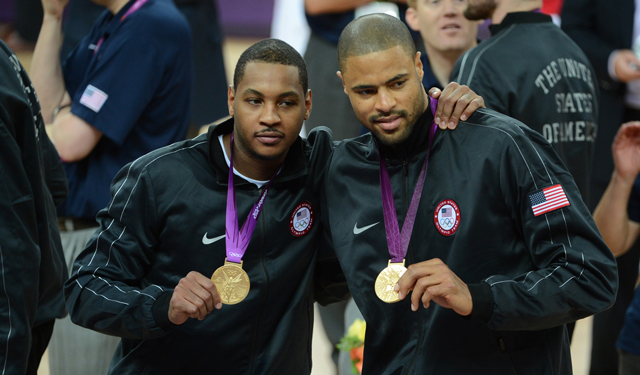 Carmelo Anthony and Tyson Chandler, teammates for the Knicks and Team USA, find themselves in the top 25.
(Getty Images)
Last year we ranked the Elite 100 players in the National Basketball Association. Our crew of three, which watches every NBA team on a regular basis throughout the season, evaluated the players using all the criteria we could -- past performance, recent production, injuries, projected improvement, character isssues, decision-making, basketball IQ, advanced metrics, team fit -- everything.
The rankings are prepared by the three bloggers for Eye on Basketball: Royce Young, Ben Golliver and Matt Moore. The rankings are averaged and listed here in random order. Last year's rankings are in parentheses.
Earlier this week, we unveiled No. 100 through No. 50 and then No. 49 through No. 40 and No. 39 through 30. Check out the guys who fell out of the top 100 between 2011 and 2012 here. The following is No. 29 through No. 20.
No. 29: James Harden, G, Age 23, Oklahoma City Thunder (2011 ranking: 46)

2012 Stats: 16.8 ppg, 4.1 rpg, 3.7 apg, 1.0 spg, 49.1 FG%, 21.1 PER
Rankings: 29, 34, 29
One of the league's fastest-rising stars, it's conceivable that James Harden could have been even higher on this list had he not had such a disastrous 2012 NBA Finals against the Miami Heat. Harden took home the 2012 Sixth Man of the Year award for his big-time scoring and playmaking ability off the bench. An excellent complement to Russell Westbrook, Harden can take over ball-handling duties when necessary and got to the free-throw line six times a game last season. Throw in a career-best 39.0 shooting percent from deep and you're looking at an offensive efficiency monster. Harden made the cut for USA Basketball's London Olympics team, too, winning a gold medal in the process. What better way to erase the sting of a Finals that saw him average 12.4 points on 37.5 percent shooting?
As good as this year was, the future is even brighter. Harden is in line for a max contract extension -- although the Thunder would love it if he sacrificed some dough for the good of their luxury tax cause -- and a lengthy run of All-Star Game appearances. It's certainly possible that he finds himself cracking the top 20 of this list within a year or two.
No. 28: Paul Pierce, SF, Age 34, Boston Celtics (27)
2012 Stats: 19.4 ppg, 5.2 rpg, 4.5 apg, 1.1 spg, 44.3 FG%, 19.6 PER
Rankings: 32, 29, 24
Paul Pierce's placement on this list is virtually unchanged this year compared to last year, much like his raw statistics. Despite a revolving-door roster around him beset by injury after injury, Pierce put up virtually the same numbers he's had for the last five seasons in helping lead the Celtics back to the Eastern Conference finals. Hampered a little by injuries, Pierce's playoff numbers took a bit of a dip, as he shot just 38.6 percent in the postseason, down from 44.3 percent in the regular season, a number that was already among the lowest of his career. Still, Pierce, one of the NBA's best competitors and wiliest players, teamed up with Rajon Rondo and Kevin Garnett to find a way to get within one game of another Finals trip, a remarkable feat and one that seemed virtually impossible when Boston was in the midst of losing seven of eight games in February.
Pierce -- and Garnett, too -- should benefit from a younger, more athletic Celtics team in 2012-13 that will include Courtney Lee, Jeff Green, rookie Jared Sullinger and, eventually, a healthy Avery Bradley. The Celtics could have used all four of those guys against the Heat in the East finals. With Garnett re-signed through 2014-15, Pierce, who is on the books for $16.7 million this season and has a $15.3-million player option for 2013-14, figures to keep his consistent play going for at least the next two years, even if age finally does start to catch up to him.
No. 27: Andre Iguodala, SF, Age 28, Denver Nuggets (30)
2012 Stats: 12.4 ppg, 6.1 rpg, 5.5 apg, 1.7 spg, 45.4 FG%, 17.6 PER
Rankings: 28, 27, 28
Andre Iguodala ticks up in this year's rankings, perhaps because of a banner year that saw his Philadelphia 76ers upset the Chicago Bulls (without Derrick Rose) in the first round of the playoffs and that saw him win an Olympics gold medal as a key contributor for Team USA. In London, the strong two-way game he's best-known for -- his quickness, strength, athleticism and defensive instincts -- got a nice showcase.
Philadelphia, feeling that it topped out this year and anxious to seize the opportunity to acquire a franchise center, shipped Iguodala to the Nuggets in a 4-team deal that landed Andrew Bynum from the Los Angeles Lakers. Iguodala plugs nicely into a starless Nuggets roster that loves to push the ball and can use an elite defensive presence. His ability to finish in transition will help make up for his lack of perimeter range and free-throw shooting woes, and speedy point guard Ty Lawson should be able to get the most out of those skills. Iguodala has a year to get himself acclimated in the Mile High city before deciding whether to exercise his $16.2-million player option for the 2013-14 season. With Lawson likely to get a long-term extension and JaVale McGee, Danilo Gallinari, Wilson Chandler, Andre Miller and Kenneth Faried all locked into place for the foreseeable future, Iguodala could do a lot worse than settling down to play the rest of his prime years with the Nuggets.
No. 26: Steve Nash, PG, Age 38, Los Angeles Lakers (20)

2012 Stats: 12.5 ppg, 10.7 apg, 3.0 rpg, 53.2 FG%, 20.3 PER
Rankings: 34, 15, 29
The Phoenix Suns must do the right thing and trade Steve Nash so he has a chance to compete for a title rather than wallow away in the lottery wasteland. Oh, I'm sorry, that sentence has been written here so many times over the last two years or so that it became an old habit that is hard to break. Finally, yes, Nash and everyone who admires his game got their wish when the Suns relented to a sign-and-trade that sent the veteran point guard to the Los Angeles Lakers for picks and cash. The deal came as a surprise initially because of the rivalry between the two teams and because much of the rumor chatter had linked Nash to the Toronto Raptors and New York Knicks before Lakers GM Mitch Kupchak stepped in to pull the trigger.
Nash teams in a backcourt of future first-ballot Hall of Famers with Kobe Bryant, just at the time Bryant can use a little extra help generating good opportunities. He joins a team with an elite defensive center in Dwight Howard, just at the time he needs some extra help with his own on-ball defense. Nash teams with a versatile front-court playmaker in Pau Gasol, just at the time we were starting to forget the type of pick-and-roll magic he used to make with Amar'e Stoudemire. On paper, it's an ideal fit for Nash, who signed a 3-year deal. Anything less than two Finals appearances during that contract would be a disappointment.
No. 25: Marc Gasol, C, Age 27, Memphis Grizzlies (31)
2012 Stats: 14.6 ppg, 8.9 rpg, 3.1 apg, 48.2 FG%, 18.4 PER

Rankings: 25, 24, 25
Marc Gasol earned his first trip to the All-Star Game in 2012 and he was a worthy selection after two years of being on the brink. Gasol was a pillar for the Memphis Grizzlies during a season that saw Zach Randolph miss more than half of the season while dropping from 20 points and 12 rebounds production in 2010-11 to 11 points and 8 rebounds in 2012 because of a knee injury. Gasol, a big and savvy center, just kept right on chugging, showing off more of his mid-range game this season as he took on the added offensive burden. He was a key player for the Spanish National Team during the London Olympics, helping lead Spain to a silver medal, although he dealt with crippling foul trouble against the United States in the gold medal game.
The Grizzlies were oulasted by the Los Angeles Clippers in an epic first-round playoff series and they'll look to repeat their unexpected run in 2010-11 by advancing deeper into the postseason in 2012-13. If they are one-and-done again, changes could be coming to the super expensive Gasol / Randolph/ Rudy Gay/ Mike Conley core four. Any trades aren't likely to involve Gasol, though, as smart and skilled 7-footers aren't easy to come by.
No. 24: Manu Ginobili, G, Age 35, San Antonio Spurs (19)

2012 Stats: 12.9 ppg, 3.4 rpg, 4.4 apg, 52.6 FG%, 24.1 PER

Rankings: 20, 23, 24
Manu Ginobili missed nearly half of the 2012-13 season due to injuries, the obvious explanation for why he slipped five spots from last year's rankings. When he did suit up, though, both he and the Spurs were typically incredible. The Spurs were 28-6 during the regular season with Ginobili in the lineup, including 18 wins in 19 games to close the season. Although he didn't launch nearly a normal volume of shots during a year shortened by the lockout and surgery on his hand, Ginobili put up career numbers from the field (52.6 percent) and from beyond the arc (41.3 percent). Those numbers came plummeting back to earth during the playoffs, though, as he shot 44.8 percent from the field overall and less than 30 percent from deep during playoff series sweeps over the Utah Jazz and Los Angeles Clippers. In the West finals against the Oklahoma City Thunder, Ginobili had big games in San Antonio's first two wins but was a virtual non-factor in Games 3, 4 and 6, even after Spurs coach Gregg Popovich inserted him into the starting lineup. In a matchup of super-subs against James Harden, it's fair to say the bearded one got the best of him.
Entering the final season of his contract, Ginobili finds himself at a bit of a crossroads. Should he stay healthy, he's still one of the NBA's best playmakers. If he's stuck battling injuries again, though, frustration could mount. There's no rush to reach the end for Ginobili, though. With Tim Duncan and Tony Parker both under contract through 2014-15, he's got at least two good reasons to keep euro-stepping for a few more years.
No. 23: Tyson Chandler, C, Age 29, New York Knicks (34)

2012 Stats: 11.3 ppg, 9.9 rpg, 1.4 bpg, 67.9 FG%, 18.7 PER

Rankings: 26, 27, 13
It's an oft-cited stat, but for good reason: in Tyson Chandler's first season with the Knicks, New York improved from No. 21 to No. 5 in defensive efficiency. That's right, a top-5 defense even with Amar'e Stoudemire and Carmelo Anthony both playing huge minutes. The 2012 Defensive Player of the Year is good for a double-double and a few blocks every night, plus some stress caused by his proclivity for getting into foul trouble. Chandler led the NBA in field-goal percentage thanks to a steady diet of uncontested dunks and disciplined shot selection.
The agile 7-footer battled through a wrist injury to help the Knicks reach the postseason, where they were eliminated by the Miami Heat in the first round. He also took home a gold medal as part of Team USA, although he was a bit player with coach Mike Krzyzewski often preferring to play small ball. The Knicks owe the Chandler / Anthony / Stoudemire trio a combined $174 million over the next three years, but the big question is simple: is that group good enough to win New York's first playoff series since 2000? The Knicks stocked up on veterans this summer -- Raymond Felton, Jason Kidd, J.R. Smith, Steve Novak, Marcus Camby and Kurt Thomas -- to find out.
No. 22: Chris Bosh, PF, Age 28, Miami Heat (23)

2012 Stats: 18.0 ppg, 7.9 rpg, 1.8 apg, 48.7 FG%, 18.9 PER
Rankings: 18, 19, 26
Rest In Peace, "Chris Bosh is the third wheel" jokes. It feels like forever since the Miami Heat All-Star forward was everyone's favorite punch line, but that's the power of an NBA title. It's easy to forget, though, the Heat were a couple of losses to Indiana and one quarter away against the Boston Celtics from bringing the Bosh ridicule to an all-time high. Had Miami failed to pull out those playoff series, with Bosh sidelined with an abdominal injury against Indiana and then working his way back into things during the latter stretches of the East finals, the trade rumors and finger-pointing would have swirled around Bosh all summer. Instead, the Heat put it together and then played phenomenal basketball in the Finals against the Oklahoma City Thunder, where Bosh was a huge X-factor, averaging 14.6 points, 9.4 rebounds and 1.2 blocks and scoring 24 points in the Game 5 blowout clincher.
The Heat, and Bosh, enter a nice honeymoon season, with all the media's pressure and expectations shifting to the Los Angeles Lakers. Bosh enjoyed a light summer -- he withdrew from USA Basketball and skipped the Olympics -- and had plenty of time to get his body right. With Miami's "Big 3" clicking on all cylinders (and under contract for, at minimum, two more seasons) and Chicago Bulls point guard Derrick Rose expected to miss much of next season, the Heat should enjoy a cakewalk through the regular season before nearly inevitable postseason showdowns with the Celtics and Lakers/Thunder. Bosh, looking and playing the part of a champion at ease, should continue to flourish.
No. 21: Carmelo Anthony, SF, Age 28, New York Knicks (15)

2012 Stats: 22.6 ppg, 6.3 rpg, 3.6 apg, 1.1 spg, 43.0 FG%, 21.1 PER
Rankings: 14, 23, 23
Carmelo Anthony was the NBA's No. 6-leading scoring in 2011-12 but was the only player who finished in the league's points-per-game top 10 who did not make the top 20 of our Elite 100. What happened? Well, the same old criticisms. Anthony, always a volume shooter, saw his field-goal percentage and points per game fall in 2011-12 and he missed 11 games because of injury. Those factors, plus a few others: New York's quick exit from the playoffs (the eighth time in nine career playoff trips that he's failed to advance); the abrupt resignation of former coach Mike D'Antoni (Anthony caught heat for not being flexible and unselfish under D'Antoni's offensive system); and a rumored rift between Anthony and former Knicks guard Jeremy Lin (there weren't enough shots for both of them to be stars).
Anthony's scintillating play for USA Basketball during the Olympics served as a reminder that he's one of the three most-deadly scorers in the world, alongside LeBron James and Kevin Durant. Still, he can't escape the feeling that he should be doing more -- perhaps much more -- on the Knicks. His rebounding numbers are merely average, he's never averaged 4 assists per game as a pro despite commanding all sorts of attention, and he settled for a career-high 3.7 threes per game last season while getting to the foul line less than seven times per game -- the first time that's happened since his rookie year. It's certainly possible that the 2011-12 season was a lockout-induced blip on the radar of Anthony's career arc and that he starts to scratch more of his all-around potential as he continues through what should be his best years statistically over the next 2-3 seasons.
No. 20: Tim Duncan, PF/C, Age 36, San Antonio Spurs (17)

2012 Stats: 15.4 ppg, 9.0 rpg, 2.3 apg, 1.5 bpg, 49.2 FG%, 22.5 PER
Ranking: 19, 18, 21

Generations of future coaches will study how San Antonio Spurs coach Gregg Popovich manages to continue to get big-time production from Tim Duncan year after year after year. In 2012, Popovich kept Duncan at 28 minutes per game -- 6 less than he played during the 2007 title season and 12 less than he played at his high-water playing-time mark in 2002 -- and occasionally sat him out completely during the lockout-shortened season. With Tony Parker taking on the alpha-dog role and an offensive efficiency machine conducting its business all around him, Duncan had every reason to embrace the lighter load.
The hallmarks of his game haven't changed: full offensive repertoire, excellent rebounding commitment and instincts, a nearly unmatched ability to effectively defend the post without fouling and a leadership ability that continues to be second to none. This summer, the Spurs gave Duncan a new three-year deal, with a player option on the final season, making a point to note in the contract's press release that the team ensures its franchise player for the last 15 seasons will retire in San Antonio. It was a classy gesture, but the contract wasn't some type of gift. Thanks to his diligent work ethic and smart guidance from Popovich, Duncan has plenty of basketball left. Even after posting the NBA's best record and sweeping two series to get to the Western Conference finals, the Spurs are already back off the map, thanks to the rise of the Oklahoma City Thunder and an astonishing summer of moves from the Los Angeles Lakers. Regardless, you can safely bet that the Spurs will be back near the top of the standings next spring, with Duncan pulling off his old man tricks just like always.