NBA Offseason Report: Utah Jazz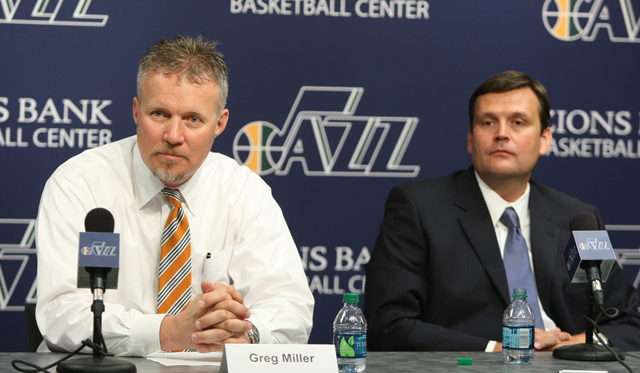 The addition of new GM Dennis Lindsey (right) might have been the Utah Jazz's best move of the summer.
(Getty Images)
Over the next month, CBSSports.com's Eye On Basketball will take a team-by-team look at the 2012 NBA offseason. Next up: the Utah Jazz. You can find our offseason reports here.
I. How they finished 2012:
The Utah Jazz finished last season with a flourish, a rush of excitement and then a thud into a brick wall. They wouldn't have had it any other way. The Jazz won seven of their final eight games to finish 36-30 and stave off the Houston Rockets and Phoenix Suns for the eighth and final Western Conference playoff spot. Not bad for their first full season under coach Tyrone Corbin, especially with four players 21 and younger (Gordon Hayward, Derrick Favors, Alec Burks and Enes Kanter) playing rotation minutes. The return to the postseason was a particularly sweet and slightly unexpected surprise: the trade of Deron Williams and the sudden retirement of longtime coach Jerry Sloan in 2011 had made it seem like a longer term rebuilding process would be necessary. Once in the playoffs, though, reality set in. The No. 1 seed San Antonio Spurs made quick work of the Jazz, sweeping them into the offseason and winning each of the four games by an average margin of 16 points.
II. Needs entering the offseason:
Like almost every "good but not great" small market team, the Jazz entered the offseason needing a new franchise player to replace Williams. That wasn't a particularly realistic scenario given the available free agents, though, so this summer became an exercise in making calculated improvements while letting a young nucleus grow up together.
The major position to be addressed looked to be point guard, as Devin Harris, one of the pieces that came over from the New Jersey Nets in the Williams trade, wasn't an ideal fit and had just completed a disappointing season. Harris, whose bread-and-butter is the pick-and-roll, never really adapted to a Jazz roster that got most of its scoring from big men Al Jefferson and Paul Millsap, who prefer to get their points in other ways. At various times during the 2011-12 season, Corbin turned to veterans Earl Watson and Jamaal Tinsley, and Harris wound up averaging his fewest minutes per game since 2006-07. His numbers, especially his scoring (11.3 points per game, down from 15.8 the previous season), subsequently took a predictable hit. You couldn't really blame Corbin for exploring alternatives because Harris was struggling with both his shot and his defense.
Addressing the point guard position seemed to be a true "need." The rest of Utah's decisions this summer were more of the "Do we do it now or later?" variety. The biggest of these concerns: finding more playing time for young power forward Derrick Favors, who averaged 8.8 points and 6.5 minutes in 21.2 minutes last season and flashed star potential at the age of 20. With Jefferson and Millsap supplying big production and eating up big minutes in big minutes in front of him on the depth chart, Favors' limited playing time was understandable. Eventually, whether that's this season or next, it will be blooming time for Favors and something (someone) will have to give so that he can get some real burn. With both Jefferson and Millsap entering the final seasons of their respective contracts, a decision is coming one way or another, possibly at this year's trade deadline.
Past that, forwards C.J. Miles and Jeremy Evans were heading for free agency. If Miles wasn't retained, and it seemed his time in Utah was up, a replacement would need to be found to supplement Hayward at the three. Finally, guard Raja Bell had been squawking about a desire for more minutes and a fractured relationship with Corbin for months. With one season worth $3.5 million left on his contract, a trade or a buyout was a clear possibility.
III. The Draft:
One major drawback of making the playoffs in 2012: the Jazz had to fork over their first-round pick to the Timberwolves as stipulated in the 2010 trade that landed Jefferson in Utah from Minnesota. With so many promising young players already on the roster, the Jazz punted on the 2012 Draft, opting not to trade back into the first round and instead adding just one new player, Kevin Murphy, in the second round. A scoring guard with size out of Tennessee Tech, Murphy was signed this week and will provide depth behind Burks.
IV. Free Agency:
Utah's two biggest moves of the summer came by trade rather than free agency. First, the Jazz absorbed Los Angeles Clippers guard Mo Williams into a trade exception to help facilitate the Dallas Mavericks' trade of Lamar Odom to L.A. This something-for-nothing move netted a starting quality point guard, making it even more clear that Harris' time in Salt Lake City was coming to a swift end. Sure enough, just a few days later, the Jazz shipped Harris to the Atlanta Hawks for small forward Marvin Williams. The re-tooling Hawks did the deal to get rid of Williams' contract, which extends one year longer than Harris' and will pay him $7.5 million during the 2013-14 season. The moves weren't particularly crippling for Utah, though, as Marvin Williams' addition meant the Jazz wouldn't have to pay for Miles (or some other replacement) and because Mo Williams, like Harris, is on an $8.5 million expiring contract.
The effect of these dual moves, then, was for the Jazz to improve their rotation at two important positions -- point guard and small forward -- at the cost of roughly $10 million. That's the cost of paying Marvin Williams the rest of his (too large but not horrific) contract minus the value of the 2-year deal that Miles signed with the Cleveland Cavaliers. While Marvin Williams isn't worth triple Miles, as their respective salaries now indicate, subbing out Harris for Mo Williams' spot-up shooting, play-making skills and leadership ability looks like a big win from a fit perspective.
Utah then took another step to make a problem child more expendable, inking Randy Foye to a 1-year deal worth $2.5 million. This move isn't anything to write home about, but it's a fair contract for a proven veteran and it adds some experience to a position that is otherwise occupied by two youngsters, Burks and Murphy. More importantly, Foye's addition rendered Bell totally irrelevant, although the Jazz, as of this writing, have been unable to finish off the expected buyout.
Finally, Utah tidied up the rest of its business by signing the high-flying Evans, the 2012 Slam Dunk Contest champion, to a 3-year deal worth $5.2 million. It's unclear whether his all-around game will develop, but Evans was affordable and has enough skill to warrant a flier.
V. Overall grade and accomplishments: B
The best move of Utah's offseason actually had nothing to do with its roster. The Jazz succeeded where many others have failed, prying Dennis Lindsey away from his post as assistant GM of the San Antonio Spurs. With Lindsey installed as the new GM in Utah, longtime Jazz GM Kevin O'Connor was able to transition a less demanding role upstairs. In Lindsey, the Jazz acquired an executive who understands the nuances of building a roster that can compete over the long haul in a small market while staying true to the franchise's core values and while finding players that fit the team's culture. It was a smart hire and one that will serve them well over the next 12 months, as Jefferson, Millsap, Mo Williams, Foye, Watson and Tinsley will all be free agents next summer.
This summer wound up being a fairly typical Jazz effort. Nothing particularly splashy. Methodical and clinical. No real risks taken. Some meaningful upgrades made. They didn't necessarily take every step they needed to but they also clearly didn't misstep, either. The Jazz remain in solid position to make the Western Conference playoffs next year, although their ceiling is likely the No. 6 seed. Could be better; could be worse. A "B" feels right here.