Report: Rasheed Wallace agrees to join New York Knicks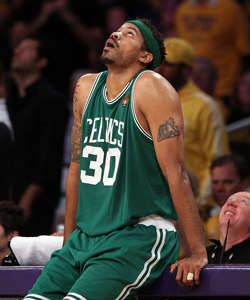 Rasheed Wallace will reportedly join the Knicks Monday.(Getty Images)
The New York Post reports that after a week of speculation, Rasheed Wallace has informed the Knicks that he will accept an offer to join the team on a veteran minimum contract.
The 6-foot-11 Wallace, who worked out with the Knicks over the weekend, retired two years ago after a disappointing season with the Celtics. The Knicks are expected to announce the signing Monday at Media Day. The first practices begin Tuesday.

The tempestuous Wallace, 38, will become the fifth Knick over the age of 35, joining Jason Kidd, Marcus Camby, Kurt Thomas and Pablo Prigioni.

Though contracts haven't been signed, there are indications Wallace has participated in voluntary workouts in Westchester across the past few days. Pending results of a physical he took Wednesday, Wallace will become Amar'e Stoudemire's backup at power forward.
(via Rasheed Wallace to sign with New York Knicks Monday, back up Amar'e Stoudemire at power forward - NYPOST.com)
CBSSports.com reported on Friday that the Knicks were weighing the addition of Sheed while maintaining concerns about his conditioning. Reports elsewhere had indicated that if he was coming back, he was only going to come back with the Knicks.
With Sheed joining that special and especially old crew of reserve players, I have a nickname for that reserve unit in particular. Kidd-Prigioni-Thomas-Camby-Sheed: The Jurassic 5. Pass it around.
It's a no-lose proposition for the Knicks, who would have only used the spot on a player possibly from the D-League who would get no time. If Sheed contributes to the locker room culture or makes a few plays in a few games, great. If not, it's such a minor investment it's not going to hurt them. Granted, the Knicks spent the money to acquire the hybrid affiliate rights to a D-League team in the Erie Bayhawks, and are now instead using a roster spot on a man who's been out of the league for more than a year, but still. No-lose proposition.
The Knicks are going to be fascinating this season, once again.