NBA calls out Dwyane Wade, Chris Paul and other stars for flopping in new video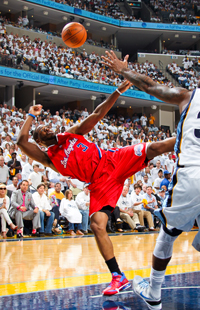 Chris Paul was called out for flopping in a new NBA.com video.
(Getty Images)
Get ready for a whole new type of star treatment.
The NBA has called out some of its most famous and popular players in a video that runs down instances of flopping that will be penalized under the league's new anti-flopping policy. The league will fine and potentially suspend players if a postgame video review deems that they have simulated fouls. The video was released on NBA.com on Friday and includes a narrator explaining the various types of flopping.
Who got nailed in the video? San Antonio Spurs All-Star guard Tony Parker, Miami Heat All-Star guard Dwyane Wade, Los Angeles Clippers All-Star guard Chris Paul, for starters, and Josh Smith, Reggie Evans and Ryan Hollins. All were deemed to have violated the league's new policy and would be subject to punishment under the new rules.
What were their transgressions?
Parker was nailed for overreacting after being fouled by Oklahoma City Thunder center Kendrick Perkins on a drive to the hoop.
"The offensive player will draw a legitimate defensive foul on the drive but he subsequently overembellishes the contact by flailing his arms and spinning to the floor," the narrator explains. "This overembellishment is inconsistent with the level of contact and with the direction of the contact."
Wade was included for kicking his leg out and falling to the ground after receiving contact on the leg by Boston Celtics wing Mickael Pietrus while attempting a fall-away jumper.
"After releasing the jump shot, the shooter, No. 3 in the white uniform, extends his right leg attempting to draw a defensive foul," the narrator says. "While there is marginal contact on the play, the flail and spin to the floor by the offensive player is an overembellishment and it's inconsistent with marginal contact."
Paul was knocked for exaggerating contact while playing defense against Memphis Grizzlies guard Mike Conley. In the clip, he flew backward to the ground, as if struck hard by an elbow from Conley as he lifted off for a close-range shot attempt.
"As the highlighted defensive player, No. 3 in the red uniform, defends the driving offensive player, he feels slight contact and then launches himself back to the floor," the narrator says. "This reaction by the defensive player is an overembellishment of marginal contact and is intended to draw an unearned offensive foul on his opponent."
Other players were called out for simulating fouls while setting a screen, being screened, fighting for rebounding position, grappling for position on an inbounds play, and for faking an injury.