Jay-Z slams media for 'diminishing' his Brooklyn Nets ownership stake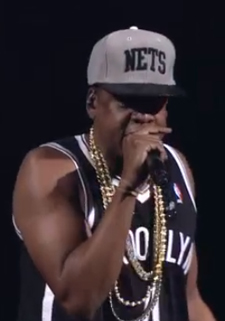 Jay-Z slammed members of the media during a concert at Barclays Arena.
(Life&Times)
Hip-hop superstar Jay-Z popped some shots Saturday at media members who he thinks are attempting to "diminish" his ownership role in the Nets. Jay-Z was appearing during the final night of an eight-concert series that opened the new Barclays Center in Brooklyn.
Back in August, the New York Times reported that Jay-Z, who has been instrumental in the franchise's move from New Jersey and has become a courtside fixture at games, owns just 1/15 of 1 percent of the franchise.
Dressed in a customized black No. 4 Nets jersey and a gray Nets cap, Jay-Z took a break between songs to single out Rachel Robinson, the 90-year-old wife of Jackie Robinson, the first African-American to play in Major League Baseball, who was in attendance at the show. Jay-Z hailed Jackie Robinson as a pioneer and then segued into a riff on members of the media who he feels haven't given him a fair shake.
Jay-Z first disputed the reported percentage -- telling his audience that he didn't know where the media got their numbers -- before asserting that "some" in the media have presented his role in the ownership group in a way that was intended as a purposeful slight.
"That's their way of diminishing our accomplishments," he said. "Don't let anyone diminish your accomplishments."
The real story, he explained, goes like this: "[I'm] a young black African male who was raised in a single-parent home in low-income housing and I stand before you as an owner of the Brooklyn Nets."
The Barclays Center crowd erupted in cheers.
"Don't let anyone diminish your accomplishments," Jay-Z repeated. "You don't have to be inspired by me, be inspired by Barack Obama if you choose to. Latinos in here, be the first Latino president. Ladies in here, be the first female president."
Jay-Z then encouraged the crowd to raise their middle fingers into the air before breaking into his hit song, "99 Problems."