Kobe Bryant posts about leadership on Facebook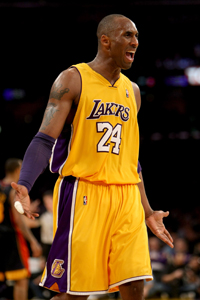 "What? I'm supposed to support you, or something?"
(Getty Images)
Kobe Bryant has been in a bizarre spat with former NBA player Smush Parker after Bryant once again decided to run down his former teammate when comparing this current Lakers team to the one he shot so much on in 2006 and 2007. Parker responded by talking about how Bryant was a poor teammate, which isn't exactly a new allegation.
Bryant, in turn, and for reasons which are unclear, felt it necessary to respond to Smush Parker, of all people, without listing him specifically, with a post on Facebook.
Leadership is responsibility.

There comes a point when one must make a decision. Are YOU willing to do what it takes to push the right buttons to elevate those around you? If the answer is YES, are you willing to push the right buttons even if it means being perceived as the villain? Here's where the true responsibility of being a leader lies. Sometimes you must prioritize the success of the team ahead of how your own image is perceived. The ability to elevate those around you is more than simply sharing the ball or making teammates feel a certain level of comfort. It's pushing them to find their inner beast, even if they end up resenting you for it at the time.

I'd rather be perceived as a winner than a good teammate. I wish they both went hand in hand all the time but that's just not reality. I have nothing in common with lazy people who blame others for their lack of success. Great things come from hard work and perseverance. No excuses.

This is my way. It might not be right for YOU but all I can do is share my thoughts. It's on YOU to figure out which leadership style suits you best.

Will check back in with you soon.. Till then

Mamba out
via Leadership is....
Bryant's argues that being a bad teammate is good for the team sometimes. He's never been apologetic about how he treats teammates, how he demands so much of them, constantly. He's renown for his glares at Pau Gasol, his sneers at Lamar Odom, his disgust for anyone who lets him down.
And part of his argument is that he wins -- the ends justify the means. Or the wins justify the meannness, so to speak.
It's why the addition of Steve Nash to this team will be so interesting. Nash is the good parent, so to speak. For every vicious gaze from Bryant and harsh word, Nash will be there with a pat on the butt and a comforting word. It's the other side of the coin. Nash has never shied away from demanding the best of his teammates, but he does it by making them believe they can succeed. Bryant, instead, makes them feel they had better succeed -- or else.
Bryant has five rings. No way to argue that. He's one of the best NBA players of all time. No way to argue that. But he could have been a better teammate. You don't have to look hard to find other players willing to talk about how bad Bryant treats the guys in the same jersey as him. The stories are out there, and add to his legend, but also can't be ignored.
If you don't think it matters, then Bryant's statement makes perfect sense to you. This won't turn anyone around on how they feel about Bryant, it's the sports Facebook equivalent of a political ad. But how Bryant treats this new core, especially with Dwight Howard who might not take kindly to having his stardom second-guessed and attacked, could impact how far the Lakers go this season.