Shot through the heart and John Wall is to blame: Wizards guard does not know who Bon Jovi is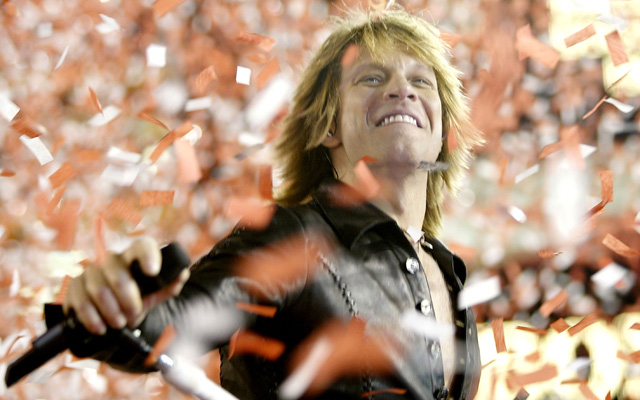 He played the Super Bowl (when Wall was 12)!
(Getty Images)
One of the disconcerting things in sports as you go through the life is the transformation from thinking players are insanely old ("Oh my God, he's 30, he's twice my age!" at 15 to "Man, that guy's so old ... wait, that's two years older than me. Where's the whiskey?") to realizing how young the young players are.
Such is the case with young Mr. Wall in Washington. John Wall was born in 1990. So, when a certain celebrity hit the Verizon Center, he didn't really understand what was going on. From The Washington Post:
Legendary rock musician Jon Bon Jovi sat courtside during the Wizards' 104-101 loss to the Toronto Raptors at Air Canada Center. The arena speakers pumped his classic staple, "You Give Love a Bad Name," while his image flashed across the HD scoreboard. And as it all unfolded, John Wall applauded from his seat along the bench.

Wall was simply being polite, because after the game, Wall was asked about Bon Jovi and he replied, "Who's that?"

Jan Vesely, the Czech forward getting dressed nearby, was stunned as he looked at Wall.

"No. You don't know him?" Vesely said.

Emeka Okafor , seated in an adjacent locker room stall, shook his head and laughed.

Wall smiled and said, "I'm a 90s baby. I never heard of him."
via Wizards fall, but not in a blaze of glory.
Never heard of him?!
Bad Medicine?
You Give Love A Bad Name?
It's My Life?
And then you realize that Bon Jovi has never had a No.1 hit in John Wall's lifetime. This is not to say that I was old enough to be rocking torn jeans and livin' on a prayer. I was 4 when Slippery When Wet came out. But Bon Jovi is centrally located in my cultural cortex. What's more alarming to me is the likelihood of Wall's unfamiliarity with No Doubt and even Nirvana.
So, yeah, in conclusion, if you're Wall's age, it's hilarious that we're all so old; and if you're my age or older, this is today's reminder that we're just waiting to die.
HT: Bullets Forever