Lamar Odom is out of shape again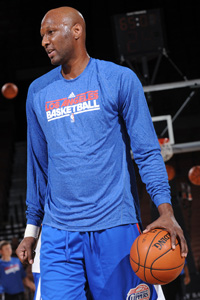 Odom has struggled with conditioning.
(Getty Images)
Lamar Odom needs to bounce back. He had a disastrous 2011-12 season for a lot of reasons, and despite the personal problems that contributed to his meltdown with the Mavericks, he has to shoulder some of the blame for his lack of contribution. This season the Clippers need him badly to resemble Odom the Clipper, but instead he's already having serious conditioning issues. From The Orange County Register:
"There's no question I've talked to him about it," Del Negro said. "I have confidence in him, and he's a veteran guy."

Odom got the night off Wednesday because of soreness in his knees. Grant Hill also didn't play.

Despite Del Negro's concerns about Odom's physical state, he has been impressed with the forward's contributions.

"He's got to work through some conditioning things and some health things right now, which he's doing," Del Negro said. "I've been pleased with his involvement and intensity in practice and in the locker room."
(via Orange County Register)
Pretty much the opposite of what you want to hear about Odom. Above his involvement with the team, he's got to be able to contribute. The Clippers don't need leadership or cheerleaders. They have Chris Paul and a pretty positive, veteran locker room. They need on-the-floor contributions.
There's a point where being understanding of personal issues reaches its limit. Odom's got a contract to play for, and the Clippers have expectations too high to deal with anything dragging on them like this.
Hopefully this is just Odom not taking the preseason seriously. We'll keep an eye on it.