The Baseline Awards 2013 Season Predictions, Part II: Melo Time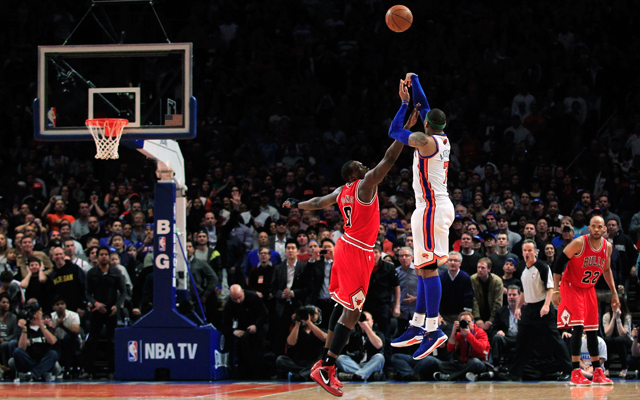 He can score and score on his own.
(Getty Images)
Welcome back, my friends, to the show that never ends. The Sergeant's going to sing a song, and he wants you all to sing along. The 2012-2013 NBA season tips off Tuesday night in Miami.

Last season we saw LeBron James take home his third MVP and Finals MVP. We chronicled the season in our weekly Baseline Awards, covering the stories that developed, handing out fake awards and keeping track of the awards race. We continue our preview of this year's awards candidates, with our patented fake awards interspersed.

Awards projections are based on who should win the award, not based on probability due to narrative or fuzzy wuzzies. This is for those who watch League Pass night in and night out and do the work, while factoring that some games mean more than others.
Offensive Player of the Year
(The league celebrates the defensive player of the year and often, voters will account for defense in their MVP vote, but there is no offensive player of the year award. That's pretty stupid. So we're adding it here.)

1. Kevin Durant, Thunder: Like I said, Durant could be the first player to average 50-40-90 and win the scoring title. Durant doesn't even have the most diverse offensive set, he's got miles to go in developing his post game and off-ball work. But he's already the deadliest player. Durant shot 46 percent from mid-range last year despite most of those being contested shots. He is a wunderkind of scoring.

2. Carmelo Anthony, Knicks: Say what you want about his isolation tendencies, I have, but Anthony is still one of the best scorers in the league. He has tremendous shot control and can produce points off shots no one else can. His precision is deadly. And if you make a mistake, he'll make you pay for it. If Anthony were to defer more of the control for the offense, he could be more efficient and just as productive. But it doesn't change the way he affects the defense. He'll get even more touches this season with Mike Woodson in charge and Amar'e Stoudemire hurt to start the year.

3. LeBron James, Heat: James' versatility is what kills you. If you prepare for everything but his perimeter attack, he'll hurt you with threes, which have been improving. Lock him down from the wing, and he'll take you to the post. James' jumper will never be what Durant's or Anthony's is. But his physical abilities and versatility more than make up for it.

4. Kobe Bryant, Lakers: He would be higher on this list if he weren't sharing touches with Nash and Howard this season. But Bryant is still one of the deadliest offensive players in the league, able to score off the drive on the pull-up, in the post with the shake, on the cut and on the catch. Mamba still Mamba.

5. Kevin Love, Timberwolves: Love had games of 51, 42, and 40 last season. That hand injury might kick him out of the MVP race, but there's no reason to think he can't bounce back and pop up on this (imaginary) award list.
Honorable Mention: Deron Williams, Russell Westbrook, Dwyane Wade, DeMarcus Cousins, Monta Ellis
The "New Madrid" Award for team lying dormant that could collapse at any moment
Dallas Mavericks

The Mavericks could make the playoffs. No shock there. But they have so many things they're contingent on. Dirk Nowitzki getting and staying healthy. Darren Collison immediately finding chemistry. O.J. Mayo taking the step that Memphis waited four years for him to make. Chris Kaman and Elton Brand staying productive and healthy this late in their careers. Young guys making contributions. Old guys making contributions. There's a number of ways this thing could get rocky and the Mavs could wind up lottery-bound. Rick Carlisle matters, though, as does Mark Cuban's penchant for getting creative should things shake out badly at the trade deadline.
Most Improved Player
1. DeAndre Jordan, Clippers: Yes, I've fallen for it, again. I've let Jordan's promise as an athletic talent and the small improvements that he has made convince me this is the year that he gets it. I'll see you again next year, same Bat time, same Bat channel.

2. Derrick Favors, Jazz: Favors is becoming so promising that there's a genuine push for minutes in Utah with near-All-Star Paul Millsap having his time threatened in the middle of a contract year. Favors' athleticism and versatility keep making huge strides forward.

3. Jeff Teague, Hawks: No Joe Johnson to usurp usage points with ISO possessions. Teague will get the chance to translate his postseason aggressiveness into his career averages. He has to take the reins. But if he does, look out.

4. Corey Brewer, Nuggets: This sounds crazy, but it's not just Brewer's preseason numbers, so listen, maybe. Brewer shows the potential to be a rich man's Tony Allen. He has great athleticism, tremendous instincts, can pressure the ball and get in the passing lane. He also has the fastest transition from defense-to-fast break without cherry-picking in the league.

5. Eric Bledsoe, Clippers: He might be the best backup point guard in the league. Bledsoe has shown aggressiveness and ability in preseason play.

Honorable mention: Avery Bradley (when healthy), Enes Kanter, Gordon Hayward, most of the Jazz (really), Dante Cunningham

The "Who Let The Dogs Out" Award for song you will be most sick of this year at NBA arenas
1. "Gangnam Style" -- Psy
2. "Call Me Maybe" -- Carly Rae Jepsen
3. "Gangnam Style" -- Psy
4. "Call Me Maybe" -- Carly Rae Jepsen
5. "Cha Cha Slide" -- DJ Casper (AKA "Everybody Clap Your Hands")

Honorable mention: "Thunderstruck," "Victory," "Gangnam Style," "Call Me Maybe"

Sixth Man of the Year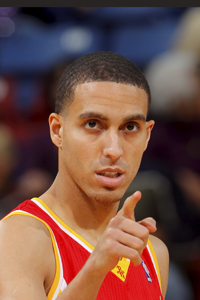 Can Martin fill Harden's role?
(Getty Images)
1. Kevin Martin, Thunder: Well, the last guy in his spot with the Thunder won it. Martin has never been on a team with this much talent. He won't have to be the primary scoring option and, despite his defensive troubles, can light up the scoreboard against the reserves, which is how this award is often attributed.

2. Jason Terry, Celtics: Terry might wind up not even playing that well and winning the award just based on narrative. Everyone really wants him to be the same player that he has been when he's won the award in the past. But he could very well actually be that good and a difference maker for the Celtics. Besides, anyone can look like a great offensive threat when compared to the rest of this team in the regular season at times. It should be noted that no one has won it twice since 1992.

3. Eric Maynor, Thunder: That's right, OKC has two candidates off its bench. With Maynor healthy and likely to see a lot more minutes with Harden gone, he could pair with Westbrook and run the most high-powered offense in the land, paving his way to the award.

4. Taj Gibson, Bulls: Let's say his extension doesn't get done before Thursday. Two words. Contract. Year. His defense could earn it, even if voters rarely reward that element off the bench.

5. Jamal Crawford, Clippers: The Clippers have a wealth of offensive weaponry to work with and, on the bench, that's going to open up opportunities for Crawford. He can score in bunches and, of course, has the requisite lack of hesitation on the trigger finger. Same problem as with Terry, no one has won it twice since 1992.

Honorable Mention: Jeff Green, Lou Williams, Marcus Thornton, Nick Young AKA Swaggy P, Manu Ginobili

The "Eight Days A Week" Award for hardest working player
1. Jeff Green, Celtics: Sorry, you come back from heart surgery, you get this award. It's just a thing.

2. Derrick Rose, Bulls: Likewise, you come back from that kind of injury and I'm going to give you credit for this. Just am.

3. Marc Gasol, Grizzlies: Almost never takes a play off, consistently hustles, always in position. Gasol works about as hard as you can physically and mentally and deals with the big guys. Rarely gets calls, too.

4. Kobe Bryant, Lakers: No one beats Bryant for preparation. Not even himself. He beats up his shadow for trying to hang with him.

5. Andre Iguodala, Nuggets: Gym rat who lives at the practice facility. Switches to toughest assignments and remains focused the entire game.



Executive of the Year


1. Mitch Kupchak, Lakers: C'mon. Dwight Howard. Steve Nash. That's the only argument he needs, Sean.

2. Billy King, Nets: King was a lock for this before Kupchak swooped in to steal the thunder. Should the Lakers not come out as brilliantly as expected, King will win based on the sheer improvement of the Nets from bottom-feeder to playoff team.

3. Danny Ainge, Celtics: Especially if Jeff Green winds up working out, Ainge will have hit the trifecta. Internal development (Avery Bradley, Jeff Green), free agency (Jason Terry, Courtney Lee) and drafting well (Jared Sullinger). He would have the best case were it not for the massive star power collection of the top two.

4. Masai Ujiri, Nuggets: If the award were handed out based on management of resources, Uijiri would be a no-brainer.

5. Danny Ferry, Hawks: How many guys can make their team better by trading their All-Star? Getting rid of that contract alone deserves some type of recognition.
The "This Ain't Baseball" Award for team mostly likely to end the hopes of a plucky underdog because you have to actually be good in this league to win

1. Los Angeles Lakers
2. Miami Heat
3. Boston Celtics
4. Oklahoma City Thunder
5. San Antonio Spurs