The Inbounds: James Harden and the illusion of choice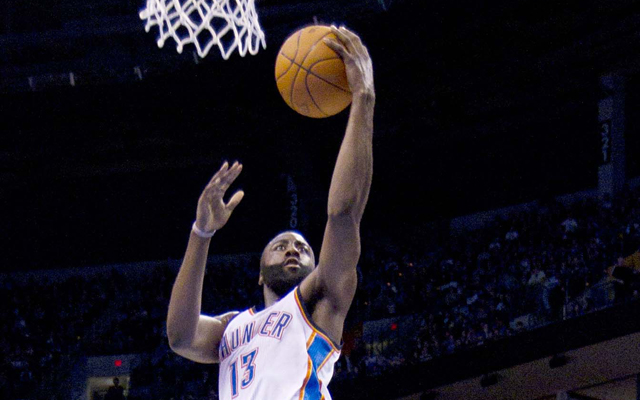 It was inevitable that the Thunder had to trade James Harden.
(Getty Images)
The Inbounds focuses on one element, thought, question, or joke in the league. It appears daily Monday through Friday on CBSSports.com.
The James Harden trade was beautiful.
For us, the media, and general NBA fans, I mean. Not for the Thunder and their fans. They got good return on it, but it sucks for them. But for everyone else, it's wonderful. Know why?
Because every side of it is debatable, and it branches into multiple areas.
Dave Zirin at The Nation posits it as a simple money grab by an ownership group crying small market. Tom Ziller throws it in the direction of chastising people for trying to bestow their own morals on Harden. There's countless analyses, including many on our site, of the impacts, fallout, and basketball repercussions of the trade.
And nearly every side is defensible. You can understand Oklahoma City fans being upset because Harden did clearly say he was willing to compromise, and then, it turns out, wasn't. You can understand Harden going after his financial stability in one of maybe four instances throughout his career he'll have the power to control what he makes. You can understand those still wounded over Seattle's departure casting stones at OKC, though it seems a bit petty. And you can understand OKC fans feeling frustrated over the state of the NBA, which through its CBA has essentially or obstentially prevented it from building a dynasty while the Lakers and Nets went on a shopping spree.
The Thunder received a big expiring contract for a serviceable and often times very good shooter off the bench along with a promising, long rookie and two first round picks, one of which could wind up in the lottery. The Rockets received a player they feel is the star they've been looking for on the wing. James Harden will receive the max money he and his agent were apparently after.
In comments after the trade, Sam Presti was his usual businesslike self about it, but expressed regret they couldn't reach a decision. Harden has said all the right things in Houston, but a report Sunday evening painted a different picture for Harden's reaction.
James Harden boarded an airplane Sunday morning, bound for Houston. He was "devastated," said someone who knows the Bearded One. Harden and his family both.

Said Harden was stunned that the Thunder actually traded him to the Rockets. He didn't believe the Thunder would do it.

But Sam Presti told him. Presti's lips now are sealed, but sources from both parties said that the Thunder appealed one final time to Harden on Friday. Upped its offer to $53 million over four years but told Harden if he didn't take it, he would be traded to Houston.
(via As devastated as James Harden might be, the former Thunder star is getting the money he wanted | NewsOK.com)
As the dust settles, I'm left with the same recurring thought.
This was always the way it was going to be, and how it unfolded was inevitable. No one had much of a choice.
For the Thunder, as Ken Berger wrote about over the weekend, the plan is consistent with what small markets have shown to be the survival guide. If you have a star player with an expiring contract and you're either not contending for a title or are maxed out, pushing you into the new punitive luxury tax, you make the trade. You make it early. You get out in front of the storm and you get out of the path. If you don't, you wind up like Orlando, or Cleveland.
The Thunder didn't make a decision to move away from Harden. You can question whether they could have paid the luxury tax given their low costs and public funding. But part of a business is determining what you will and will not pay for resources. The Thunder set a value on Harden. Bending on those values? That's what gets teams and businesses in trouble. Bad investments are what gets management fired, what causes financial and basketball losses. The line has to be kept. They couldn't do anything else, and when it became apparent that the Rockets had by far the best offer, they couldn't wait till the deadline. Keeping Harden for one more run meant losing him with no return (the CBA's restrictions on sign-and-trades kick in this season). So they pulled the trigger.
Harden gets three big paydays and a veteran finisher payday if everything goes great with his career. He gets this deal, his next big one (the Dwight/LeBron type payday), one to take him into his 30s, and then one to finish off his career. That's it. What if he suffers an ACL injury and is never the same? What if the Thunder's chemistry implodes and he sacrificed money for a chemistry that doesn't exist in three years? There's an uncertain future when you put your trust in basketball to reward you in a way guaranteed money does not. Harden and his agent could control when he got paid, what he got paid, what he'll be making the next five years. And if you only have that control a select number of times, you have to maximize it.
Additionally, consider that in the next CBA there will be further rollbacks on what the players can make, inevitably. That's in four years. Harden has to maximize what he can make now because the next contract will inevitably be less than it could be under the current system. That's the part where I start to get annoyed at ownership. I think there are financial disadvantages to operating in a small market. But Clay Bennett wasn't stamping his feet at the other owners during the lockout. He locked out the players to get more money so he could not pay Harden because of the luxury tax in the system he helped create -- so he'll have more money later, when he locks out the players again with the other owners to get more money from players like Harden.
Harden could have chosen championship chances over the money. Not a guarantee, not a definite title, but a better chance. And there's no way to know what will happen in Houston. The NBA is too unpredictable to be sure what the future holds. Would you have thought Steve Nash would have a real shot at a title before he retires?
And finally, Houston had to pull the trigger. Harden's an All-Star caliber player who is just getting started. They have whiffed on every star available for three years. They need to sell tickets, they need to win games, they need to have a talent base so they can land better free agents than Omer Asik. They still have flexbility and eventually you want to move past draft picks and trade assets. They had a shot and they took it. Harden's separation from the elite level is worrisome, but when you have an open look at a star, you take it and don't look the gift horse in the mouth. Now they have to do that and see what they actually got in their trade.
At the end of the day, this whole thing might as well have been scripted. There's an uncertain future for how the Thunder go forward, where Houston goes from here, what Harden's career will look like and if anyone will regret this trade went down. But from the position of where all three parties were, there was never a choice, never an option.
This was what had to happen.