Taj Gibson agrees to four-year, $38 million extension with Chicago Bulls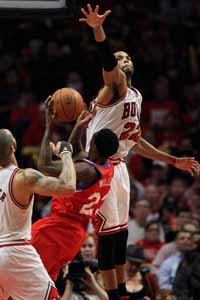 The Bulls survive. Again. (Getty Images)
The Bulls' draconian negotiating tactics win out again. After drawing a line in the sand with talented reserve big man Taj Gibson, and after it was thought an extension unlikely due to the reported $8 million gap between he and the team, the Bulls got their guy at their price.
Ken Berger of CBSSports.com confirms a Chicago Tribune report that the Bulls have agreed to a four-year, $38 million extension with Gibson. To put this in perspective, Gibson, who is one of the truly great defenders in this game and who often finishes games because of his energy and defense, will make less than DeMar Derozan who signed a four-year, $40 million extension earlier on Tuesday.
The Bulls had been working on an extension with Gibson for months after losing Omer Asik to a smaller offer from Houston. Gibson's $38 million provides him with "security" he said after the game confirming the extension to reporters. Incentives could push the deal to $40 million which was the tipping point, apparently.
So the Bulls managed to push things with Tom Thibodeau for a long time and get him back and do the same with Gibson. The model is the same. Squeeze every penny you can out but make sure you get your guy. You have to consider the Bulls to be the best negotiating team in the league at this point, even after signing a reserve to four-years, $38 million.
Now, about Carlos Boozer...