Mark Cuban says he'll continue to re-sign Nowitzki as long as he wants to play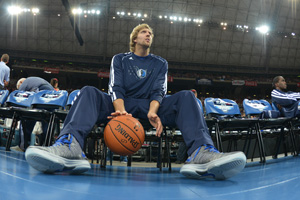 Dirk can play as long as he wants. (Getty Images)
Dirk Nowitzki is still waiting to get back on the floor after knee surgery. He'll be 36 years old when his contract expires in the summer of 2014, but as long as he wants to play, Mavericks owner Mark Cuban says he'll re-sign the future Hall-of-Famer.
"Obviously I'm excited if he thinks he's going to come back," Cuban said. "I want him to come back for forever. I'll keep on signing him until he's 73 if he wants to keep on playing."
via Mark Cuban: Ill sign Dirk Nowitzki until he's 73 - Dallas Mavericks Blog - ESPN Dallas.
Nowitzki has indicated in recent days that he thinks he has a few more years in him past 2014. You have to wonder if it wouldn't be better to see if he can get through a sustained period without injury before asserting that more years is a good plan, but Nowitzki's conditioning has always been tremendous.
It's also a bit concerning that Cuban would go out on this limb. Bill Polian would have said he'd let Peyton Manning play as a Colt until he retired three years ago. The NBA is littered with examples of franchise players finishing out their terms with other teams. It's highly unlikely that this doesn't end with Nowitzki walking away as a Maverick; you just never want to close the door to that unforunate possibility.
But maybe Cuban's good to his word; he certainly has a close relationship with his star.