The InBounds: D'Antoni has struggled, but not with Gasol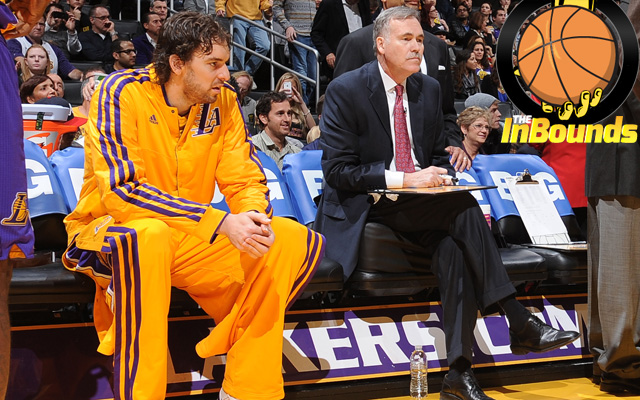 Awk-ward.
(Getty Images)
Here's the problem with the Los Angeles Lakers:

Everything.

Everything, everything, everything. Everything that involves basketball is wrong with the Los Angeles Lakers. Here's a brief and not at all comprehensive list, just to get you started.

Many of their players who were thought to be good are not good right now.

Those players who are good, or can play well for stretches, are not giving anything close to an acceptable effort.

The roster does not in any way fit with the message, style, or approach of its coach. (We'll come back to this.)

The coach fails to adjust for those shortcomings in fit and instead tries to hammer round pegs into the square holes of Lakers fans over and over again until there's nothing but a mess of sadness.

The stars have no cohesion and absolutely zero interest in sacrificing and working together to get the team straight.

Ego and agenda rule the day, at a level unseen in Los Angeles, which is kind of like saying Pompeii has never really seen something blow up.

Ownership is stubborn and trapped in a whirlpool of its own mistakes.

Management is frozen by the luxury tax implications of what it has done, the massive expectations heaped upon them, and the fact that where in other places, if something doesn't work, you blow it up, in LA, things just don't go wrong. Only they have.

The transition defense is bad.

The transition offense is clunky.

The halfcourt offense is disjointed and predictable.

The halfcourt defense lacks resolve and effort.

Guys don't rebound hard.

Guys don't chase loose balls hard.

Guys don't execute play sets hard.

Guys don't play hard.

Dwight looks stupid with a headband.

So things aren't going well. And the latest firestorm revolves around Pau Gasol. Mike D'Antoni benched Pau Gasol "permanently" on Thursday night against the Bulls, and Pau Gasol's response was less than enthusiastic, telling anyone who asked that a trade doesn't sound so bad right now.

And as is the case with NBA and its narratives, this is being singled out as some sort of example of the problem. Here's how it works. Boil down the remarkable complexities of any NBA player, offensive system, and the relationship between his skillset and the system, boil that down to one sentence.

"Pau Gasol should be used in the post, not away from the basket."

Nevermind the fact that Gasol has never been a traditional center. He's not Hakeem Olajuwon. He's got a beautiful turnaround jumper and tremendous footwork. He's seven feet tall. But he's never been the guy to bully into you, put his ass into the post and worm his way for a tough move against a big, tough defender.

He's also a tremendous midrange shooter who can space the floor and make incredible passes. You want him in space. You want him moving. You want him making plays. You want him spreading the floor to punish the defense for doubling Dwight Howard.

But the edict says that he's a center, and that he should play low, and so D'Antoni is the problem.

But this isn't about fit. This is about effort, and execution. And the reality, as frustrating as it may be, is this:

Pau Gasol hasn't been the NBA player he's needed to be since 2011.

Specifically, in May of 2011 when the Lakers were swept by the Dallas Mavericks. In that series, there were rampant reports of Gasol having personal issues. I don't know, or care, what those issues were, they're none of our business. But in that series, I, like many, was expecting a classic battle between Gasol and Dirk Nowitzki. It was to be an even matchup between two tremendous seven-foot power forwards.

Instead, Gasol fell apart. Mentally, physically, in execution and approach. He checked out, the Lakers were swept, and Phil Jackson, who Gasol now clings to as a savior, walked away.

And he's not coming back.

Since that moment, Gasol has never been the same. His production has slipped, his instincts have slipped, his aggression has slipped. He's not the player he once was. Were he a better player than Dwight Howard, he would be the focal point of the offense. Were he Dwight Howard, he would get the ball in the paint. And were he Dwight Howard, D'Antoni wouldn't be taking such a hard line with him.

He's not Dwight Howard. Not even this marginalized version of Dwight Howard we're seeing.

And what's worse is that people are glossing over Gasol's reaction. When Phil Jackson didn't get the Lakers job after Mike Brown was fired, Gasol did everything but throw a pity party in the press. He talked about how the team has to "move on," like it was a death in the family.

Since then, his every indication has been resistance to D'Antoni. He wants Phil Jackson back, he wants Lamar Odom back, he wants 2010 back. Someone needs to tell Pau Gasol, Odom's not coming back, 2010's not coming back.

Phil Jackson's not coming back.

Let's not get this confused, Mike D'Antoni has been a disaster in Los Angeles. Kobe Bryant's comments questioning his approach are proof enough of that. It's one thing for Gasol not to buy in, but when Howard and Bryant aren't buying in, you have a problem. You have to get the good players to buy in, even at the cost of your system.
His defense in particular has been horrible. Ask good coaches and smart people, they'll tell you his defense in New York and Phoenix was better than advertised. But the Lakers are awful. Effort, execution, scheme, awareness, everything is terrible, and if D'Antoni doesn't fix it, the Lakers are sunk.

But when it comes to Gasol, he's brought this on himself. Joakim Noah has been repeatedly benched late in games by Tom Thibodeau over the years. At this point, Noah is a much better player than Gasol. But Noah, like other good players who go through rough spots and have their starting status or late-game status effected, doesn't lash out. He says, "Whatever the team needs to do" and plays harder.

Gasol complains.

The Lakers are a mess, and D'Antoni needs to compromise, only because his efforts to get the team to translate to what he wants has failed. He was right to try to get the team to buy into his vision, but now that it has failed, he doesn't have time to correct it. He needs to fix this because he was brought in midseason, on painkillers, to fix this. He signed up for this and he has to live with the fallout.

They say pride goeth before the fall. But with Kobe Bryant saying he needs to shoot more, Dwight Howard saying he needs to score in the post more, D'Antoni saying the needs to do what he wants more, and Pau Gasol wanting ... God knows what more, it seems more and more evident.

The Lakers might fall well before they realize pride is the problem after all.