Midseason Grades: You can find NBA's best in the West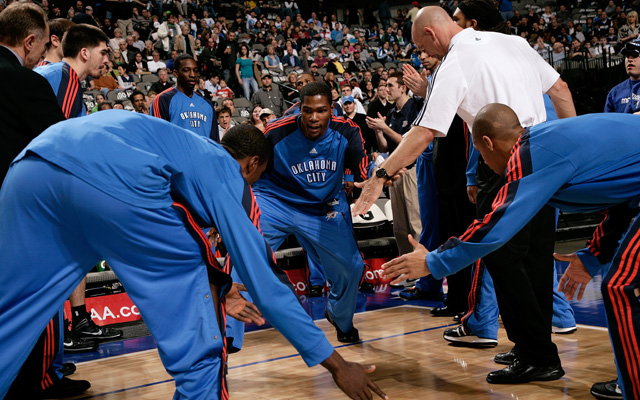 Durant's Thunder lead the NBA at midseason.
(Getty Images)
We approach the halfway mark of the 2013 NBA season, happy to find ourselves in a normal schedule. Even the long grind from November to April is preferable to the lockout madness of last season. But more than that, it has been a spectacular one. We're not short on great teams or tremendous players. The competition level is high, the playoff races competitive and, outside of some Eastern Conference weakness, the overall strength of the league is solid.
LeBron James continues his next-level-even-for-him play with Kevin Durant right behind him on the are-you-kidding-me scale. Even the bad teams provide entertainment as the Lakers' disaster has dominated headlines for all the wrong reasons as proof that a good plan can go badly.
So to track our progress this year, we present grades for all 30 NBA teams at the halfway mark of the 2013 season. Grades are provided not only based on performance but factoring the way those performances have come, injuries and performance against expectations. We begin with the best.
Northwest Division by Matt Moore
Grade: A+

They're great. They're the best team in the league this season, hands down. Beard, no beard, Harden, no Harden, they're terrific. On the road, at home, on a boat, with a goat, in a box, with a fox, it doesn't matter. This team is a lightning storm (complete with thunder, get it!) wrapped in a gigantic lazer gun.

Denver Nuggets
Grade: B+

Tough to figure out. Maybe the best thing about them is that they have good wins over good teams like Oklahoma City, Golden State, the Clippers, Utah and Memphis. They've been inconsistent against bad teams, but their home record is still stellar. 3-1 against the Warriors, 0-3 to the Wizards, Suns and Sixers. It's not an overwhelming performance, but their balance on both sides of the ball is enough to make you expect great things in the second half.

Portland Trail Blazers
Grade: B

This team pulled off some heavy magic in the first half. They managed to convince the Portland faithful that they would perform at a playoff-level despite the huge number of close games that they won early. Analysts suggested this would not hold. It hasn't. The team has slid back, but really, you can't do anything but tip your hat to Terry Stotts and the four good players that they have on roster relative to minutes distribution (I'll let you figure out who). Damian Lillard is a phenom, and the future's bright. Now it's time to settle back to where their roster and results indicate they're headed.

Utah Jazz
Grade: C

Did they overperform? Did they underperform? Are they a playoff team? Are they a lottery team? I'm not honestly sure. There's a lot going on with this team, from the strong way that they can play together for stretches to their roster traffic jams. They can look positively dynamic at times and the next game seem wholly mediocre. We keep waiting for a roster move to head them in a new direction. Until that happens, they're on the same path. Maybe a first-round exit, maybe a lottery spot. Nothing more, nothing less.


Minnesota Timberwolves
Grade: C+

This should honestly be an "I" for "Incomplete" or maybe more appropriately "Injured." They've just had too many injuries to be able to judge whom they are and what they're capable of. Here's a brief list.

Ricky Rubio -- ACL Recovery
Kevin Love -- Broken hand
Chase Budinger -- Torn knee ligament
Nikola Pekovic -- Groin injury
J.J. Barea -- Concussion
Kevin Love -- Broken hand, again

That's just for starters. There are many more behind that. But at the end of the day, they also miss a lot of shots, particularly threes. If they ever get healthy, maybe we can judge them. Until then, we'll applaud the effort for not going to pieces through injury and wonder what could have been.
Pacific Division by Zach Harper

Los Angeles Clippers
Grade: A+

Not sure what more you could want from the first half of the Clippers' season. They're legitimately in the hunt for the best record in the West (within a game), they have multiple All-Stars and one of the deepest teams in the NBA. And they still have guys to get healthy and add to that rotation. The Clippers might be the best team in the regular season when the season is over.

Golden State Warriors
Grade: A+

Everyone said if Stephen Curry and Andrew Bogut can be healthy, this team will make the playoffs. What nobody said was "if only Curry is healthy of the team, this team will get home-court advantage in the first round." Can't say enough about the way the Warriors have responded to the coaching and teaching of Mark Jackson and their coaching staff. Nobody wants to play them in the first round of the playoffs.

Los Angeles Lakers
Grade: Q

Two things about the Lakers' season so far:
1) LOL
2)


Sacramento Kings
Grade: D+

The Kings haven't been able to harness their potential on the roster at all. DeMarcus Cousins has been a nightmare with his attitude while flirting with domination at times on the court. Tyreke Evans is better than he was last year, but he still doesn't have a role. Aaron Brooks plays over Jimmer Fredette, and Thomas Robinson has been a virtual no-show. And yet, they're only 1 1/2 games behind the Lakers. Think about that. By the way, the Maloofs get an F for lying to the city of Sacramento repeatedly.

Phoenix Suns
Grade: D

The Suns have forced Alvin Gentry out, Marcin Gortat is barely a functioning member of NBA society, Michael Beasley has attempted more shots than he has scored points in the first year of a three-year, $18 million deal and Jermaine O'Neal is fighting with the GM. Phoenix also has the worst record in the Western Conference. Other than that, everything is great in the desert.
Southwest Division by Royce Young
San Antonio Spurs
Grade: A-

Just rolling along. Another season, another stellar record and legit shot at contention. Tim Duncan is playing incredibly well, Tony Parker has taken over the team's responsibility as the go-to player and their depth is once again an obvious strength.

Memphis Grizzlies
Grade: B+

For a couple weeks, the Grizzlies appeared to potentially be the team to beat in the Western Conference. Everyone knows their strength is the inside game with Marc Gasol and Zach Randolph, but Rudy Gay was putting things together as a quality closer and the bench was becoming a weapon. Some curious losses have pumped the brakes a bit on the title talk, but Memphis is obviously going to be a team to be reckoned with in the Western Conference playoffs.

Houston Rockets
Grade: B-

So far, the season has been one of serious ebbs and flows. They're clearly on an improved path by adding James Harden, but they're young and lack consistency. One week they can rip off four wins and look like a sure thing playoff team. The next, they can lose four straight and flirt with missing the postseason altogether. Knowing Daryl Morey, though, he's probably on the phone right now working toward a big deadline deal that's going to solidify that position a little more.

Dallas Mavericks
Grade: D+

A failed offseason plan has led to an extremely disappointing season. Plus, Dirk Nowitzki being hurt for almost half the season certainly hasn't helped. The Mavs still have playoff hopes and, had a handful of close games gone their way, they'd be closer to the .500 side of things. But it's pretty obvious this group is a far cry from the team that won a title two seasons ago.
New Orleans Hornets
Grade: C-

The first two months were essentially another disaster as the Hornets continued to find their footing in a post-Chris Paul world. But with the return of Eric Gordon and the emergence of Greivis Vasquez, the Hornets have shown signs of something, winning seven of their last 10. There's a quality young core in place and the direction is becoming far less hazy.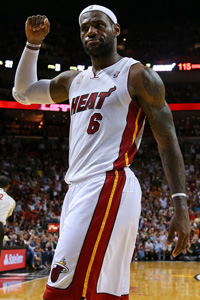 LeBron.
(Getty Images)
Southeast Division by Zach Harper

Miami Heat
Grade: B+

The Heat have not been dominant in any way outside of what LeBron James is doing on the court. Their offense is pretty solid with a scary looking perimeter attack. Their defense looks out of sorts and susceptible to being broken inside. They're still sitting atop the Eastern Conference because there is no team to truly challenge them. This is probably going to be the case until halfway through the playoffs.

Atlanta Hawks
Grade: B

A couple of weeks ago, the Hawks were going to be looking at an A for their midseason grade. They were 20-10 and looked like the darlings that people pegged them to be in the preseason. Then reality came crashing down, and their offense quickly fell apart. Josh Smith is looking like a bit of a head case, and they just lost Lou Williams for the season. Hawks are still five games above .500, but it looks like less of a fairytale now.

Orlando Magic
Grade: B

Not sure you could ask for much more from this Orlando team. Jacque Vaughn's coaching looks bright for the future, they've competed on many nights, Nikola Vucevic is averaging a double-double while getting fans all in a tizzy and the team is only three games worse thanDwight Howard's new team.

Charlotte Bobcats
Grade: C

Good news! The Bobcats have already surpassed the historical ineptitude of last season. Bad news: Since matching last season's win total at seven on Nov. 24, the team is just 3-26. Kemba Walker has improved, and Michael Kidd-Gilchrist looks like a gem. The rest of this team just fails to give you great feelings about the future. At least they're better than last season.

Washington Wizards
Grade: D

The Wizards before John Wall's return to the lineup were a pathetic bunch of subpar role players who somehow managed to beat Oklahoma City to improve to 5-28. Then Wall returned, and the team appears to have some life in it. They're 4-2 since Wall's return and look to be a team in the second half of the season that might be pests for their opponents.
Central Division by Royce Young

Chicago Bulls
Grade: B

The success of the Bulls without Derrick Rose has been impressive but really not that surprising. With Tom Thibodeau's defensive system worth wins alone and tough players like Luol Deng and Joakim Noah carrying the load, the Bulls are well positioned for the playoffs as they await the return of Rose. What has been curious is their home record. Chicago is a very good 12-5 on the road and just 12-11 at home. What's up with that?

Indiana Pacers
Grade: A-

The best defensive team in basketball isn't pretty, but their record is. The first couple weeks of the season were shaky, and the inconsistent play of Roy Hibbert has remained a concern, but the Pacers have a defensive identity and a palpable toughness that they live by. They might've found a star in Paul George. And if Danny Granger can add to what they have going rather than disrupt, the Pacers very well might be the top threat to the Heat in the East.

Milwaukee Bucks
Grade: C+

Did you know the Bucks are a playoff team right now? The lack of attention that's paid to them -- except when they're firing coaches -- would make you think they're a lock to be back in the lottery. But they're sitting firmly in seventh, five full games clear of the drop line. I don't know if it has been a good season so far for the Bucks. It seems like it, what with their 21-18 record and all, but they canned Scott Skiles and appear to be pretty disjointed.

Detroit Pistons
Grade: D

The Pistons are continuing their very frustrating trend of being bad but not bad enough. They have a disturbingly mediocre roster and no clear direction out of it. Andre Drummond appears to be a find, but how are they going to go from perennial 30-win team back to a contender?

Cleveland Cavaliers
Grade: D+

Injuries have ravaged what was set to be a promising season. Anderson Varejao was set to make the All-Star team and potentially be a major trade chip to bring the Cavs a number of assets or talented young players. Except he's done for the season. Kyrie Irving is obviously tremendous, but it's another season back to the high lottery for the Cavs.
Atlantic Division by Matt Moore
New York Knicks
Grade: B-

A regression was inevitable. The Knicks weren't going to shoot 75 percent from three or whatever they shot in the first quarter of the season. They were going to come back down to earth. And as the offense has drifted back to only "really, really good" (third in offensive efficiency), the issue that's bigger is the defense. They're ranked 15th, and that's a problem. If this keeps up, it could be a long season.

Brooklyn Nets
Grade: B+

Despite firing their coach and going through a horrible December, the team is right where it needs to be, closing in on home-court advantage in the first round and second in the division. P.J. Carlesimo has done a fantastic job, and the team has rallied. They're on track, against all odds. And yet still below dollar value.

Boston Celtics
Grade: D

They're not good, OK? Maybe they'll turn it around, maybe they'll convert everything like they have in 2010, 2011 and 2012. But the defense is suspect, the offense is inconsistent, Avery Bradley is not the savior, the old guys are old and the young guys aren't stars. They have major problems. Looking forward, we still like them to make the playoffs.

Philadelphia 76ers
Grade: C-

They don't have Andrew Bynum, so they can't get any worse than a C- grade here. But the offense is just SUCH.A.MESS. You hear Doug Collins in timeouts actually telling his guys to take mid-range jumpers despite being the third-worst team from mid-range according to HoopData.com. Their defense is good, and Jrue Holiday has been fantastic. But even with Bynum, it's hard to see this offensive scheme working.

Toronto Raptors
Grade: D

Andrea Bargnani has been hurt, but Raptors fans consider that a good thing. The team made a brief surge with some home games against some awful teams, but reality has returned. This team could contend for a playoff spot with a better roster. But even with Amir Johnson, Ed Davis and Terrence Ross' terrific play, there's just not enough talent right now. Change is needed.