Report: Cavs' Omri Casspi could be bought out, pursued by Houston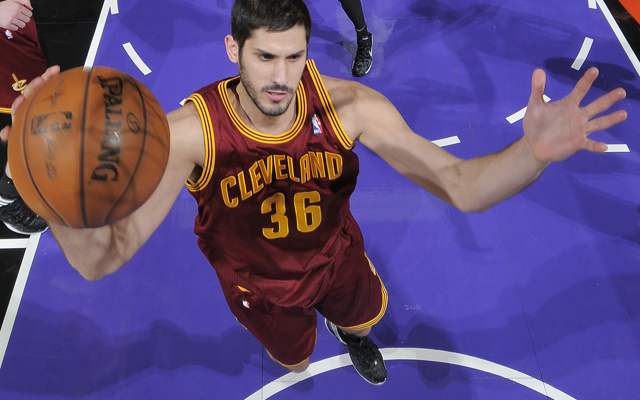 Can Omri Casspi still help a team?
(Getty Images)
Ever since impressing the NBA in the first two months of his rookie season with the Sacramento Kings, Cleveland Cavaliers' forward Omri Casspi has struggled mightily with his play. Casspi has struggled to make shots, make plays, and find minutes over the past couple of seasons. Even with a Cleveland Cavaliers' team that has been desperate for solid wing play over the past couple of years, Casspi has been unable to find any sort of foothold in Byron Scott's rotations.
The partnership between Casspi and the Cavs could be headed to a close, according to Marc Stein of ESPN.com. Stein reported the Cavs and the fourth-year player are potentially working on a buyout to allow him to join a team before Friday's playoff eligibility deadline.
Cavs and Omri Casspi indeed engaged in buyout talks, I'm told, with deal to part ways possible before March 1 deadline (which is Friday)

— Marc Stein (@ESPNSteinLine) February 28, 2013
Stein also tweeted that the Houston Rockets are legitimate suitors for Casspi if he is made eligible for playoff rosters by Friday night's deadline.
Can Omri Casspi help a team at all?
The first two months of his rookie season in Sacramento, he showed a lot of playmaking ability, scoring ability, and the ability to hit 3-point shots. Casspi was fearless with the basketball, no matter who was guarding him. In fact, his fiery demeanor often had him demanding the ball more and more. Then things turned for him.
He hit the proverbial "rookie wall" and was never able to recover. Maybe he was playing over his head when he first entered the league or maybe the book got out on how to defend Casspi early and he was never able to adjust to defenses. Whatever the reason was, Casspi was such an expendable piece in Sacramento after his second season that they packaged him with a future first round pick to the Cavaliers to acquire J.J. Hickson.
In Cleveland, Casspi has barely looked like a player who belongs in the NBA. His true shooting percentage the last two seasons has been under 50 percent. He's made only 39.5 percent of his field goals and 32.5 percent of his 3-pointers. He rebounds well for his position (over six rebounds per 36 minutes) but it's not enough to value him as a rotation player.
When Casspi was looked at as a prospect with the Kings, he was good at spotting up for 3-pointers (39.2 percent his rookie season) and scoring in transition (1.14 points per possession, 61.5 percent from the field). That Kings team played at a fast pace (seventh in the NBA) and it allowed Casspi to get out and run. Transition possessions accounted for 16.7 percent of his offense -- the second most behind spot-up possessions.
The Cavs have played a slower pace than what he came into the league playing. They're not slow compared to the league (they hover around the middle of the pack the last two years), but they're certainly not a fast team. If he was to sign with the Houston Rockets, assuming he gets bought out, perhaps their hectic style of play could revive his career.
The Rockets play the fastest pace in the NBA by a mile and it allows him to get his legs moving, he can use his athleticism and length to get easy baskets. Once the easy baskets come back to his game, he could have more confidence in his shot. And even if that's all he turns into (a very light version of Corey Brewer), that's a lot better than what Casspi has been over the past few seasons.