Derrick Rose on return timetable: 'Nobody knows but God'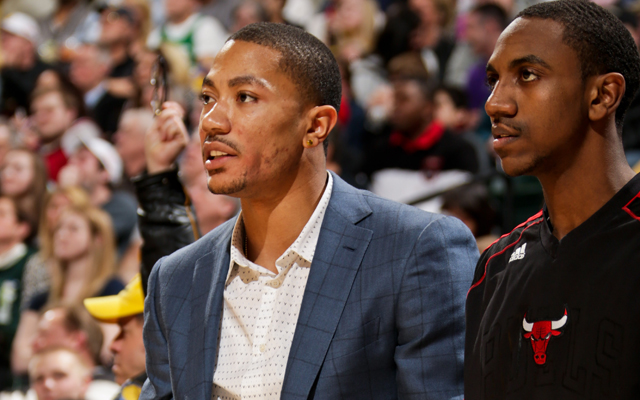 New week, same story for Derrick Rose. Lots of uncertainty, lots of don't-knows, lots of wait-and-sees.
With less than a calendar month left in the regular season, Rose still isn't sure whether or not he'll return to the Bulls this season after tearing his left ACL almost a year ago. Via ESPN Chicago:
"It could be tomorrow, and I feel like I could play the next game," Rose said. "Nobody knows but God."
Rose has been listed as day-to-day for almost a month now, with Tom Thibodeau sort of leading on that Rose could return any game. But Rose has been adament that he doesn't want to rush anything and is more concerned about being mentally ready than physically. As to how good he is now, Rose was noncommittal.
"I really don't know right now," Rose said. "I don't want to place no percentage on it, but I just know that I'm close and I'm taking every day serious and just becoming a professional."
Rose said his trademark explosiveness is coming back day by day.
"It's coming," he said. "I'm not panicking or anything. If anything, I think I'm going to be a better player.
"I'm just taking my time. I'm just being patient, doing all the right things and really eating right and getting rest."
The Bulls have 16 games remaining in the regular season, and while they've slipped as of late, are essentially a lock for the postseason. So with Rose getting closer, so it seems, it's very reasonable to assume he'll at least be part of Chicago's postseason run.
Rose has said it's not just the knee or mental issue, though, it's also about just general soreness and other parts of his body being prepared. For instance, his hamstrings were said to be an issue a couple weeks ago. In terms of all that stuff, he's not making a ton of progress.
"It's still about the same," he said about the soreness. "Where when you warm up a little bit [the knee] will be loose then the activity will pick up then it will get back sore. [I'm] just fighting through that."
Rose, 24, wants to make it clear, though, that while he's focused on his long-term career, he wants to be back on the floor with his teammates. Some have questioned that, but Rose said he's working as hard as possible to return.
"[I want to return] bad," he said. "But knowing my health is the biggest key, where I'm only 24 years old, I've got the whole future in front of me. I'm just trying to take my time."