Late Lions beat writer Tom Kowalski receives lifetime achievement award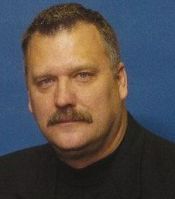 Kowalski
Last August, Tom Kowalski, who covered the Lions for Mlive.com and Booth Newspapers and who was revered by fans and colleagues for his wonderful coverage as a journalist, died suddenly at the age of 51 from heart failure.
Kowalski was so well-respected that the Vikings, Bills, Buccaneers and Saints kept an empty seat open in their press boxes throughout the season when Detroit visited those respective cities.
Ten months after his untimely death, the Pro Football Writers of America have honored Kowalski by naming him the 2012 McCann Award winner for his coverage of the Lions and the NFL. As the PFWA says, "It is the highest honor and most prestigious award for media members who cover pro football."
"It is such an honor for the PFWA to recognize the lifetime accomplishments of a ground-breaking reporter like Tom Kowalski with the prestigious Dick McCann Award," said Bill Emkow of Mlive.com. "He constantly redefined himself in each era of journalism that he was a part of, from print, to radio, to TV, to internet and social media. He ended as a larger-than-life entertainer as well as a fearless reporter. He was one of a kind, the likes we may never see again …
"In the end, he was the greatest bridge the Detroit Lions organization ever had with its fans. He was a pioneer in this industry, far more than people realize. He is greatly missed by hundreds of thousands of Lions fans every day around the world, as well as by his friends and family."
The PFWA also has honored the following this year: Falcons general manager Thomas Dimitroff with the Jack Horrigan Award (league or club official for his or her qualities and professional style in helping the pro football writers do their job), the Houston Texans PR staff with the Pete Rozelle Award, Tim Tebow with the Good Guy Award, and Patriots owner Robert Kraft with the George Halas Award (given to a NFL player, coach or staff member who overcomes the most adversity to succeed).

For more NFL news, rumors and analysis, follow @EyeOnNFL on Twitter, and subscribe to our Pick-6 Podcast and NFL newsletter. You can follow Josh Katzowitz on Twitter here: @joshkatzowitz.