Despite new rule, Colts say they'll black out games not sold out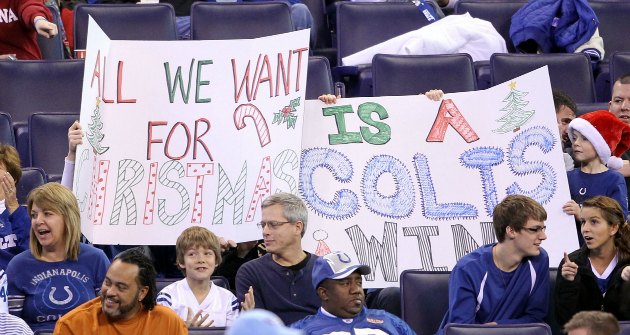 See those empty seats? The team wouldn't want you to see that on TV. (Getty Images)
You know what's not a good way to win over a fanbase that just watched your team suffer through its worse season since 1991 and then saw you clean house of many of the most important parts of that team's most-recent successful reign?
Tell said fanbase that if games aren't sold out this year, those contests will be blacked out.
That's what the Colts told Fox 59 they were planning to do this season.
This is doubly painful for Indianapolis' fans. The NFL recently changed the blackout rule to state that only 85 percent of the team's tickets have to be sold for the game to be watched locally.
For now, the Colts have 2,000 unsold season tickets, which apparently upsets organization officials.
"We wouldn't have had season tickets available this time last year," Larry Hall, vice president of ticket operations and guest services, told the TV station.
"We're confident that the games are going to sell out this year, but if for some reason one didn't, then obviously the blackout rules would still apply."
The reason the Colts can get away with that despite the NFL's rule change is that it's up to the team to decide if the games not sold out can air. Most teams, I imagine, would allow the games to be shown just for the positive PR points they would win. The Colts apparently aren't interested in that.
"We understand what the NFL is doing and at the same time, as a small market team, we want to make sure that we protect that game day experience," Hall said. "Every year we'll evaluate where we're at, but at this point in time after thinking through it, home field advantage is a big part of it. It's a competitive advantage on the field to have the stadium full."
True, but if you're alienating a portion of your fanbase to do so, I'm just not sure that's the smartest choice.
But as the Indianapolis Star's Bob Kravitz writes, the Colts have their reasons for taking this route.
"Colts tell me if you accept [the] 85% rule, every tix sold over 85% capacity, half that money must be paid to visiting team. Serious $$ loss," Kravitz tweeted. "NFL has given teams the option to do 85%, but I'd be surprised if many, if any, actually do that. Very expensive. Bottom line, yes, it's about the bottom line. Wanna sell out, have homefield advantage. Don't wanna be paying out $$ to visitors."

For more NFL news, rumors and analysis, follow @EyeOnNFL on Twitter, and subscribe to our Pick-6 Podcast and NFL newsletter. You can follow Josh Katzowitz on Twitter here: @joshkatzowitz.