Panthers trade Jeff Otah to NYJ for 7th round conditional pick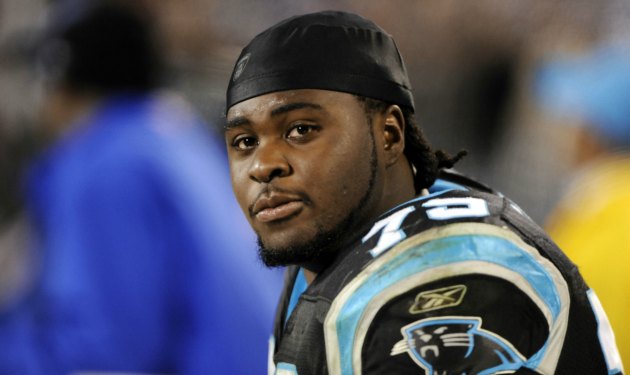 Sounds like his old team simply got tired of Otah's injury situation. (US Presswire)
The Jets have had trouble the past two years at right tackle, as Wayne Hunter and Vladimir Ducasse have attempted (and failed) to shore up the position opposite of left tackle D'Brickashaw Ferguson. Now, New York is looking outside the organization for help.
The Jets announced Monday evening that they've traded an undisclosed conditional draft pick to the Panthers for tackle Jeff Otah. According to ESPN's Adam Schefter, that pick is a seventh-round conditional selection.
Carolina selected Otah in the first round of the 2008 draft, but he's been badly decimated by injuries, which have allowed him to play only four combined games in the past two seasons. He's in the final year of his rookie contract of five years and $14.33 million, and the Panthers have given indications in the past month that they were tiring of Otah.
"The Panthers would be thrilled to see Otah put doubts about his work ethic and durability to rest in camp, but there are some inside the organization who are not overly optimistic about his chances of returning to the promising form he once displayed," Pro Football Weekly wrote on June 22.
Meanwhile, it's now clear the Jets don't want to go with Hunter as right tackle. Or as our CBSSports.com colleague Pete Prisco noted, "Wayne Hunter was terrible last season. The tape showed a spinning top at right tackle."
Perhaps a change of scenery in New York will do Otah some good. Even if he's going to an organization not so well known for sturdy discipline.
UPDATED (5:35 p.m. ET): Here's what CBSSports.com's Jason La Canfora had to say about the transaction.
The trades essentially turn out to be Louis Murphy for Jeff Otah, according to league sources, with the conditional picks being swapped both in the same late round. So the pick the Panthers sent to Oakland for Murphy is replaced by the pick they get from the Jets for Otah.

Carolina, who acquired tackle Bruce Campbell from Oakland earlier this offseason, felt good about their depth at the position and Otah, like Murphy, was going into the final year of his deal. Re-signing him in the future would be tough, given their depth and his injury issues. The conditons with the Otah trade are largely injury-related, and if he passes a physical the Panthers secure the pick.

"Otah is a beast," one general manager said. "He can be dominant. He has to stay on the field, and the knee is a concern, but when he's healthy there's not too many better."

Carolina has expressed confidence in its young receivers but lacks depth there and Murphy's size is a big plus for them. Injuries have been an issue with him too, however.

"He made a lot of plays the first few years in the league," the GM said. "He's a big body with good hands. I'm not sure he plays to the 4.3 he ran coming out of school, but i can see why Carolina liked him."

The conditions in the Murphy trade are tied to him making the team, primarily, but barring injury that is certainly expected at this point.
For more NFL news, rumors and analysis, follow @EyeOnNFL on Twitter, and subscribe to our Pick-6 Podcast and NFL newsletter. You can follow Josh Katzowitz on Twitter here: @joshkatzowitz.