Brian Urlacher underwent knee surgery; still plans to be ready for season opener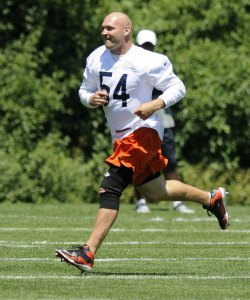 Urlacher probably won't be running very much in the next few weeks. (US Presswire)
Brian Urlacher has barely been seen in training camp this month as he deals with a mysterious knee injury. It probably goes back to the sprained MCL and PCL he suffered in last year's season finale -- he didn't have surgery at the time -- and after practicing the first few days of training camp in July, his knee swelled and he hasn't been on the field since.
And it might be a while before we see him again, as the team announced the Bears linebacker underwent an arthroscopic debridement procedure on his left knee. The team says his goal to play in the season opener is unchanged, but you have to think those odds just got a little worse.
According to the Chicago Tribune, Urlacher had the surgery Tuesday.
Fox-32 asked Urlacher last week if he had arthroscopic surgery for his knee problems and if that's why he was gone from the team earlier this month for what the Bears deemed personal reasons. He denied it, and then he was asked by host Lou Canellis if he could have the surgery and return to the team in two weeks.
"I don't know," Urlacher said. "I am just going to keep resting right now. I have never had a scope. I don't know how that stuff works. This is the first time I have ever done anything to my knee so I am kind of new to this. I don't know. Honestly, I don't know how that works."
Urlacher ran some at practice Monday, and after that point, the team must have decided that the surgery was the best option for him.
"I just think I did a lot of movements I hadn't done in a long time and being out there for 2 ½, three hours probably doesn't help, running around," Urlacher told Fox, via the Tribune. "But it's practice. You gotta do it. I think just the shock of being out there so long and doing so many movements like that was too much for my knee.
"It is hard but there is a fine line between pushing it and easing into it, which is what I need to do. I just gotta get back out there for Sept. 9. Even if I just practice the week before, I'll be in good enough shape to make it through those games. But I gotta be out there when the games count."
Which is what he's been saying all along.
"September 9 I'll be ready to play," he said last Sunday, via Rapid Reporter Gene Chamberlain. "I'm pretty sure.
"That's really all that matters to me. Preseason games and all these practices, I'd love to be out there, but I'm not going to put myself in jeopardy and miss the first game."

For more NFL news, rumors and analysis, follow @EyeOnNFL on Twitter, and subscribe to our Pick-6 Podcast and NFL newsletter. You can follow Josh Katzowitz on Twitter here: @joshkatzowitz.