Are the Patriots phasing out Wes Welker?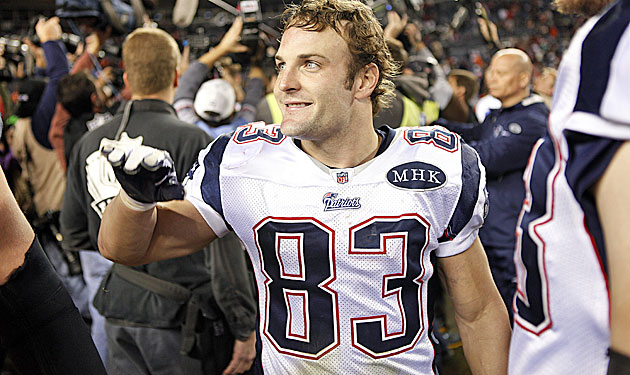 Are the Patriots sending Welker a message? (Getty Images)
The offseason relationship between Wes Welker and the Patriots was not very conciliatory.
After quickly signing his franchise tag in the hopes it would lead to a long-term contract extension, negotiations actually got worse. Welker quickly backtracked on that statement, but since then, the relationship between the two sides seemingly hasn't improved.
Most likely, this will be his final season in New England -- even though he's on record as saying he wants to return -- and through the first two weeks of the season, it appears that the Patriots are trying to phase out Welker. Slightly, at least.
He surprisingly didn't start last Sunday, and instead, Julian Edelman took his place. In fact, Welker didn't enter the game until Aaron Hernandez was injured, and on the day, Welker participated in 77 percent of the offensive plays. It should be noted that Tom Brady targeted Welker 11 times (second on the team only to Brandon Lloyd's 13), and he caught five passes for 95 yards (Edelman had five catches for 50 yards and played 91 percent of the time).
For comparison's sake, as CBSSports.com's Will Brinson wrote, Welker was in the game for 63 percent of New England's plays in Week 1, while Edelman took the field for only 34 percent. So, it's fair to wonder if Bill Belichick is trying to move Edelman ahead of Welker on the depth chart, and if that's the case, you have to wonder how much Welker's contract dispute contributes to that.
Welker was caught a little off-guard by not being on the field for the first play last Sunday.

"I really wasn't positive even leading up to the first series," Welker told WEEI, via sportsradiointerviews.com. "I wasn't sure what was going to happen. I just go out there whenever my number is called and I go out and play."
When he was asked if there were any clues leading up to the game that Edelman would start in place of Welker, he said, "Yeah, I mean, a little bit. Yeah. We just continue to grind away and get ready for the weekend and prepare as if we are going to be going and I did end up playing quite a bit in the game."
True enough. But man, Welker must be hurt physically or something, right? I mean, Julian Edelman instead of Welker? The man who has 54 catches in his career vs. the guy who's caught at least 111 passes in four of the past five seasons? Something has to be wrong with Welker.
"No. No. No. I feel great. I'm ready to go," Welker said.
In a word, hmm. A story that, I'm sure, will be continued.


For more NFL news, rumors and analysis, follow @EyeOnNFL on Twitter, and subscribe to our Pick-6 Podcast and NFL newsletter. You can follow Josh Katzowitz on Twitter here: @joshkatzowitz.