Russia beats Slovakia to win gold at Worlds; 2014 Olympics groups set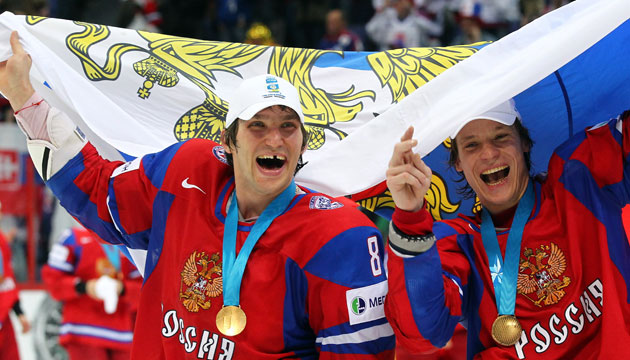 Ovechkin and Semin relish the Russian win. (Getty Images)
The Russians finished off the World Championships about the only way it was destined to be -- with a gold medal for their country.
Russia dominated from the moment the tournament began, winning all 10 games in which they played. That was finished off with a 6-2 win in the gold-medal game against Slovakia on Sunday in Finland. Alexander Semin scored two goals for the Russians and Evgeni Malkin put one in for good measure.
The final goal brought Malkin's total to 11 goals and eight assists in the 10 games. As you could probably guess, he was named the player of the tournament. Surprise, surprise.
While such countries as the USA and Canada were missing big pieces of their national teams, the Russians had a pretty solid contingent of players available, especially after the Washington Capitals were eliminated from the playoffs and Semin and Alex Ovechkin joined the team in Scandanavia.
So the victory gives these players a gold medal to add to their collections. That's a nice feather in the cap. But we all know the only gold medal everybody really cares about is at the Olympics. And that's what Russia is really going for considering it hosts the Games in 2014 in Sochi.
And this win goes a ways in helping them reach that. With the World championship Russia secured the top spot in the next Olympics and presumably the best draw.
What it means is that the Russians will draw the sixth and seventh seeds in their group at the Olympics with one qualifier to be determined still. So who are those two seeds? The sixth is the same Slovakians the Russians just beat, and seventh is the United States.
So to put this more in an American perspective, the USA route to try to to repeat its silver-medal feat from Vancouver or improve on it will have to go through the host nation and defending world champs and a team that beat it in this Worlds tournament.
Here are the three groups as they stand now. The top two teams advance and then two more wild cards.
Group A: Russia (1), Slovakia (6), USA (7), Qualifier 3
Group B: Finland (2), Canada (5), Norway (8), Qualifier 2
Group C: Czech Republic (3), Sweden (4), Switzerland (9), Qualifier 1
I do like the route the Canadians will have for the Olympics. At full tilt they can compete with anybody and they drew one of the traditionally weaker nations in Norway.
For more hockey news, rumors and analysis, follow @EyeOnHockey and @BrianStubitsNHL on Twitter and like us on Facebook.