Kings take advantage of Devils' missed opportunities to take early series lead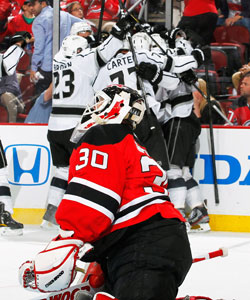 NEWARK, N.J. -- It was widely assumed that of the four teams that reached the Conference Finals the Los Angeles
Kings
and New Jersey
Devils
were the two capable of giving us the best, most entertaining Stanley Cup Final.
It didn't always play out that way during the Kings' 2-1 overtime win on Wednesday night.
Sure, it ended in spectacular fashion thanks to a brilliant goal from Kings superstar (and yes, he is now on his way to becoming a superstar -- if he already isn't)
Anze Kopitar
off of a no-look pass from
Justin Williams
. Before we were able to reach that point we saw a lot of hockey that looked to be a combination of two teams trying not to make a mistake, and two teams trying to get a feel for what their opponent is all about.
"It was a little bit of a feeling-out process maybe, or it looked like that," said Kings forward
Jarret Stoll
. "I don't know. Just some weird plays and some sloppy neutral zone play. Turnovers here, turnovers there. It just wasn't a typical game from both sides, but I'm sure you'll see a different Game 2."
For the Kings the win allows them to maintain their perfect record away from the Staples Center this postseason, winning their ninth consecutive road game. They didn't play their game to perfection, and it was far from their best performance of the playoffs, but they were able to do just enough to get the win. They know they have to be better on Saturday.
"There wasn't many shots early seeing how they were going to play, and we certainly didn't want to do that," said Williams. "We're a team that needs to dictate the play of the game for us to be successful, and we're going to have to have more of that in Game 2."
More on Kings-Devils
Video
Colin Fraser
became the 16th different King to score a goal this postseason, further showing the depth of this roster and the number of players contributing to this incredible run. Goaltender
Jonathan Quick
, one of the many worthy Conn Smythe contenders on the roster, made some spectacular saves when he needed to. Even if it wasn't all that often. There were stretches where he appeared to be a lonely man at his end of the ice. The Devils attempted just 34 shots over the course of the game, with only 17 of them actually reaching Quick.
(Just as quick example as to the way this game was played at times: For the first 14 minutes of the second period Quick didn't see a single shot. The first official "shot" he did face that period was nothing more than the puck rolling off of
Zach Parise
's stick as he carried the puck up the ice on the penalty kill.)
He also received a bit of help from the Devils.
Not every "scoring chance" has to be an official shot on goal, and the Devils had a handful of quality opportunities that were simply fired wide of the net. All of them potential game-changers. Of their 11 attempted shots that missed, three of them could be giving them nightmares for quite a while.
It all started in the first period when
David Clarkson
had two wide open shots in the slot with what appeared to be the entire net to shoot at, only to miss on both of them.
The first of those chances came just minutes after Fraser gave the Kings the early lead.
Late in the third period
Mark Fayne
had a miss of his own -- perhaps the most frustrating of the night for Devils fans -- when he hooked this attempted shot wide of the goal.
They didn't get a better look the rest of the game. That's the kind of night it was for New Jersey.
Still, for as maddening as it had to be there were still some positive developments for the Devils on Wednesday.
Martin Brodeur
was brilliant in net, playing perhaps his best game of the postseason, and gave his team a chance to win. Even with the lack of overall shots they were still able to generate some quality chances.
They just couldn't finish. And in a best-of-7 series -- the most important of them all -- that can be a costly series of mistakes.
Photo: Getty ImagesFor more hockey news, rumors and analysis, follow @EyeOnHockey and @agretz on Twitter and like us on Facebook.