Shane Doan now waiting until July 16 before deciding to return to Coyotes or not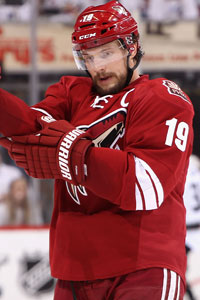 Shane Doan had 22 goals and 28 assists while wearing the C for the Coyotes last season. (Getty Images)
Shane Doan is an unrestricted free agent who has his own restrictions.
It's not much of a secret that in a perfect world, Doan wouldn't leave the Phoenix Coyotes. But the world of the Coyotes is far from perfect and hasn't been for a long time. So Doan has actually considered flying the coop this summer and leaving the organization if the ownership situation wasn't stabilized. He originally gave a deadline of July 9 to start considering other offers and true to his word he waited.
Now that interest has begun pouring in and Doan reportedly has a keen eye on what seems like half of the NHL's teams, Doan is delaying his decision again. Not because the number of offers is overwhelming -- although they may be -- but because he wants more time to see the Coyotes situation unfold.
"I would say if we don't have an answer by the 16th [of July] it may be time to get serious about listening to other teams' offers," Doan's agent, Terry Bross told Craig Morgan of Fox Sports Arizona.
Why has the date now been pushed to July 16? Well it's not arbitrary by any means. That is the day that the opponents of the sale of the franchise in Glendale think they have to submit enough signatures to put the matter on the November ballot. The city of Glendale and the supporters of the deal believe that deadline passed earlier this week. So when they try to submit the signatures on July 16 -- if they even have enough -- we'll have a good idea of what to expect.
Whether or not the signatures were gathered in time won't be decided by July 16. If the opposition is told they are too late then it will become another court battle and there won't be any resolution then. But the reason why Doan would wait for July 16 is in the even that there aren't even enough signatures making it all a moot point. That's about the only hope for Coyotes fans who want to see Doan stick around.
"If it's going to turn into legal wrangling, then I would say it might be time to move on," Bross said. "Unlike the majority of athletes, he takes responsibility for this organization. Don't think it's lost on him that it's going to have an impact in more ways than on the ice if he leaves. That's why we're dragging our feet on this."
Now should Doan walk away there will be plenty of teams who will make an offer. Bross told Morgan that there are 16 teams who would make an offer or at least seriously consider it. To this point it would be impossible to pick a favorite since Doan and many teams reportedly have "high mutual interest" including the Kings, Canucks, Red Wings and Blackhawks among many others.
For more hockey news, rumors and analysis, follow @EyeOnHockey and @BrianStubitsNHL on Twitter and like us on Facebook.