What can Penguins breakout star James Neal do for an encore in 2012-13?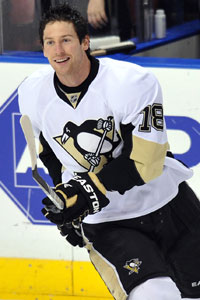 After James Neal was traded to the Penguins during the 2010-11 season it wouldn't be unfair to say the start to his Pittsburgh career was a bit of a disappointment. Expected to add some much-needed offense to a team that was dealing with two major injuries at the time (Sidney Crosby and Evgeni Malkin), he scored just one goal in his first 20 regular-season games with the team. He then followed that up with just one goal in seven playoff games (and even that was a bit of a fluke, coming on an innocent wrist shot from a bad angle tha he just kind of threw at the net).
With a fresh start during the 2011-12 season, everything suddenly started to click for Neal. He not only rediscovered the scoring touch he had shown over the first three years of his career in Dallas, he set new career highs across the board with a 40-goal, 81-point All-Star season. He also established himself as one of Pittsburgh's core players with a performance that resulted in him getting a brand new six-year, $30 million contract extension.

Before we start looking ahead and what the Penguins can expect this upcoming season, let's go back to what went right for Neal this past season.
For one, he was in a great situation taking his spot on what was one of the best scoring lines in the NHL, playing alongside Malkin and Chris Kunitz. All three players seemed to be a perfect complement for one another. Malkin has the all-around playmaking ability, Neal has the incredible shot and finishing ability, while Kunitz was able to handle a lot of the dirty work along the boards and in front of the net while also handling a lot of the defensive responsibilities and helping to keep the puck moving up the ice.
Together they were as close to unstoppable as a single line can be.
He also had an increased role on the power play, playing over 100 minutes more on the man advantage than he ever did during any other season in his career. That increased power-play time helped him to score more goals on the power play (18) than he did over the first three years of his career ... combined.
All of this played a big role in his breakout season.
When the play was even (5 on 5), the simplest explanation for Neal's improved goal-scoring was the fact that he generated more shots on goal than just about every other player in the NHL, and certainly more than he had ever been able to create in his career before last season. Looking at his percentages there was nothing really out of the ordinary in those situations that would suggest his goal-scoring during even strength was any sort of a fluke. Sometimes when a player has a season that stands out from the rest of his career there tends to be an abnormally high (and unsustainably high) shooting percentage behind it.
For Neal this past season everything in that area was right in line with his career averages. The biggest difference, again, was the simple fact that he was able to generate more shots, which probably goes back to playing with players like Malkin and Kunitz that dominated the puck and were able to help him create opportunities in the offensive zone.
The table below shows some key numbers for Neal throughout his career: shots on goal, shots per minute, goals (all during 5-on-5 play), power-play time and power-play goals.
James Neal Year-By-Year
Year
Shots (5 v. 5)
Shots/Min (5 v. 5)
Goals (5 v. 5)
Sh % (5 v. 5)
PP Mins
PP Goals
2011-12
214
.188
22
10.3%
314.16
18
2010-11
159
.142
17
10.7%
204.01
5
2009-10
150
.143
22
14.7%
214.42
2
2008-09
127
.135
15
11.8%
170.04
9
As you can see, his shot totals, especially at even strength, exploded last season.
One of the things that worked against Neal during his first 20 games with Pittsburgh the previous year was the fact that he couldn't seem to catch a break or get a bounce to go his way. He was creating chances during the stretch run of that season (he was averaging nearly three shots on goal per game), but nothing was going in for him and he finished with a shooting percentage of under 2 percent after joining the Penguins.
That's a bad number for any player, let alone one that's supposed to be a sniper along the wing. And that simply was not going to continue.
If you have a player with a shot as lethal and quick as Neal's and you give him that many opportunities he's eventually going to start putting them in the back of the net. Especially when that skill and ability is combined with some of the film work the Penguins did with Neal that might have helped him find certain areas on the ice where he could be most successful.
Back in October, with Neal's season off to an incredible start, Mike Colligan of the Hockey Writers put together a detailed analysis of Neal's season to that point and hinted at some of the work the Penguins may have done with Neal to get him into certain areas of the offensive zone:
Another way for a goal-scorer to find success is to head to certain areas of the ice that are so familiar, he can almost shoot with his eyes closed.

Focus on Neal for an entire shift in the offensive end and you'll notice him heading to the same two spots on the ice: the top of the left circle and the bottom of the right circle. Coach Dan Bylsma pored over hours of film this offseason breaking down every single goal Neal has scored in his NHL career.

The Penguins also recently told James Mirtle of The Globe and Mail about an advanced stats model they've been working with from the Sports Analytics Institute...

...There's a good chance Bylsma and his staff combined this scoring probability data with the spots on the ice Neal has been most successful in the past to determine the best areas to score.
Sure enough, if you look at Neal's 5-on-5 shot chart from this past season (and you can do so by clicking right here) you can see a lot of shots (and goals) coming from the two spots Colligan pointed out in October -- the top of the left circle and the bottom of the right circle.
If you look at just the pucks that actually went in the net, over half of his even-strength goals came from those two spots (or the same general area). As the season progressed the Penguins kept using a set faceoff play when they had an offensive-zone draw that gave Neal an opportunity to get uncontested shots from the top of the circle.
It was nearly unstoppable for opposing goalies.


The average reaction time for a goalie on that play from the drop of the puck until it hits the back of the net is less than a second ("how long does it take to score a goal?").
So what should be a reasonable expectation for his goal total next season?
Neal, who turns 25 in early September, is in what should be the prime of his career right now and he's entering the season that many players tend to hit their peak offensive performance. Whether or not the Penguins keep him with Malkin or move him to Crosby's line (which I suspect was their original plan when they acquired him two years ago) he's going to have an opportunity to play with a top playmaking center.
Another 40-goal season is certainly within reason for Neal, but it also might be expecting just a little too much. For one, goal scoring across the league is still going down, and it's a mark that only four players were able to hit last season. There's also the fact that only a small handful of players have been able reach the 40-goal plateau in back-to-back seasons over the past decade.
I don't see any reason Neal can't duplicate (or at least come close to duplicating) what he did at even strength last season. So it might all come down to what he does on the power play.
Forty seems like it might be asking a lot, but something in the 35-goal range seems like it should be well within reason for him this year.
What do you think should be a reasonable expectation for Neal's goal total in 2012?
For more hockey news, rumors and analysis, follow @EyeOnHockey and @agretz on Twitter and like us on Facebook.