Who Would You Rather Have? Joe Thornton vs. Pavel Datsyuk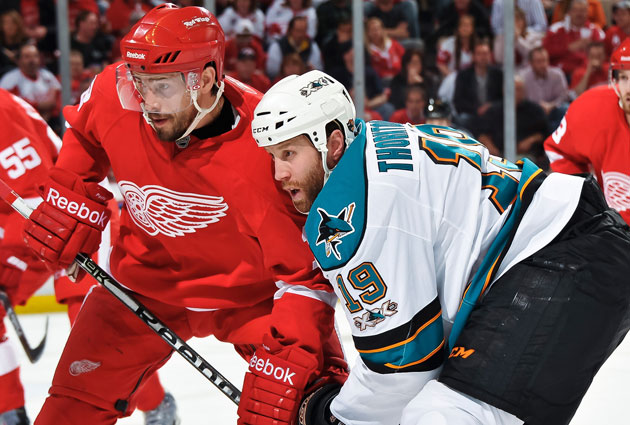 Thornton and Datsyuk are two of the best at what they do. (Getty Images)
The question is simple: Who would you rather have? The answers aren't always as easy. We at Eye on Hockey will take a look at two players and answer the question.
The first inaugural Who Would You Rather Have duel is set for two veterans and perennial all-star centers, Pavel Datsyuk of the Red Wings and Joe Thornton of the Sharks.
Adam Gretz's pick: Joe Thornton
I want both. But since that's not an option, and if I had to pick one for this season, I think I'd be pretty tempted to go with Thornton.
I've always felt that for much of his career, and especially since he went to San Jose, he's been one of the most underappreciated players (if not the most underappreciated player) of his era. I think a lot of that comes from the fact the Sharks haven't won the Stanley Cup so many have expected them to win by now, but he has the resume of a future Hall of Famer. He seems like the type of player that will be more respected for his on-ice accomplishments long after he retires than when he was actually playing.
A dominant two-way center, and one of the best playmakers to ever play in the NHL (he's one of just a small handful of players to have two 90-assist seasons in the NHL -- the others are named Gretzky, Lemiuex and Orr), he gets consistently pulled through the mud because of some perceived shortcoming in the playoffs that doesn't really exist. Yes, his production does see a slight decrease in the postseason, but it's no different than the decrease any other player sees in the playoffs. Just for comparisons sake, Thornton has a 0.24 decrease in his point-per-game average (career) going from the regular season to the playoffs -- which is identical to the decrease Datsyuk has had over his career.
There was a time, just a few years ago, that I thought Datsyuk was in the discussion for being the best player in hockey (like in the top two or three) as he combined a brilliant offensive game and shutdown defensive ability. He still provides all of that that, and he's still one of the best players in hockey. But so is Thornton.
I think my biggest reason for taking him at this point (because their production on a per-game and per-minute basis is so close) is that age and injuries seemed to have hurt Datsyuk just a little bit more in recent years, and Thornton seems like a better bet to give me 82 games in 2012.
Brian Stubits' pick: Pavel Datsyuk
If I have the choice to take Pavel Datsyuk, I'm taking him almost every time -- against anybody. The man is an absolute wizard and is without a doubt one of the absolute best in the game.
Everybody knows what Datsyuk can do with the puck on his stick. In that regard there really is nobody better in hockey. He slices, dices and simply dazzles defensemen. If you want actual point production instead of just show, well it's there too. Datsyuk is only 14 points shy of being a point-per-game player in his career that is now 732 games.
But compared to Thornton, well, honestly the offensive numbers aren't in Datsyuk's favor. They are very similar but you can't say that Datsyuk's are better. It's almost the same story when you look at the contract situation, each is signed for another two years; Datsyuk at $300,000 less per season than Thornton. That's a fair tradeoff for being one year older to cancel each other out.
Where Datsyuk really gets my vote is his all-around game. For a while it looked like they were going to have to rename the Selke Award after Datsyuk as he took it three years in a row. You know the guy is good when he has been in consideration for the award the last two seasons despite missing a combined 38 games. I know it's splitting hairs, but Datsyuk is the better player in the faceoff circle, too with a 54 percent win percentage compared to Thornton's 53 percent.
All of this neglects to mention some of the bonuses at play, too. In Datsyuk I'm getting one of the best shootout guys in the league vs. Thronton, who rarely ever takes part in the skills contest. Hey, while this is part of the game it's a serious consideration to take into account.
Lastly, Datsyuk has a move named after him and his last name was turned into an adjective. If that isn't reason enough to pick him, I don't know what is.
Community
Now you make your pick.
For more hockey news, rumors and analysis, follow @EyeOnHockey and @StubitsCBS on Twitter and like us on Facebook.