Who Would You Rather Have? Corey Perry vs. Ryan Getzlaf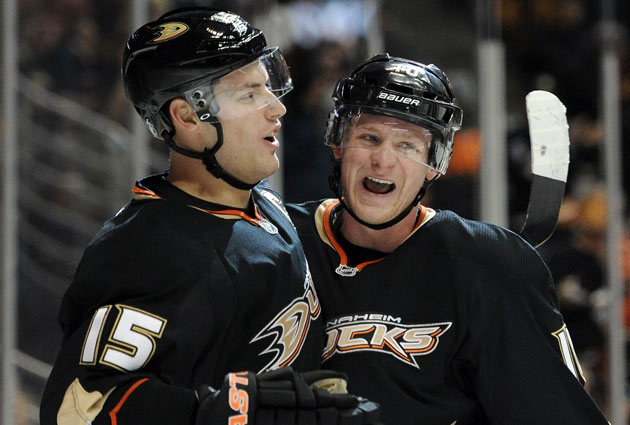 Getzlaf and Perry have been together their entire career in Anaheim. (Getty Images)
The question is simple: Who Would You Rather Have? The answers aren't always as easy. We at Eye on Hockey will take a look at two players and answer the question.
In the last Who Would You Rather Have debate we split two great teammates in Pittsburgh. This week we move to the West Coast and break up Anaheim Ducks forwards Corey Perry and Ryan Getzlaf.
Adam Gretz's Pick: Ryan Getzlaf
I think this is an interesting one. We have two players that were drafted in the same round of the same year by the same team, had identical salary cap hits for this season, spend most of their time on a line together, and will both be eligible for unrestricted free agency next July if they don't come to an agreement with Anaheim.
And they're both pretty darn good players, too.
Given a choice I think I have to go with Getzlaf. For me it's not just a matter of talent and production, because they both have talent and, for the most part, are pretty similar when it comes to their production.
It also comes down to position, value, and how easy they would be to replace if you let one of them get away. When all things are equal, and in this case I think they are in most areas, I tend to want to lean toward the center over the guy that plays on the wing. I think it's a lot easier to find quality top-line wingers on the open market (or via trade) than it is to find quality top-line centers, and Getzlaf is still one of the better ones in the league.
He's a great playmaker, and since entering the NHL back in 2005 only nine players in the league have recorded more assists over that seven-year stretch. He had a down year in the goal-scoring department this past season, scoring just 11 (a career-low) but I think he's due to bounce back this season. He was still able to generate a decent number of shots, but his shooting percentage (5.6 percent) was not only below the league average, it was significantly lower than anything he had ever done in his career. It seems like an outlier and a fluke more than anything else.
Brian Stubits' Pick: Corey Perry
Right off the bat we're looking at a lot of the same features that are considerations as Adam noted. So really, this one boils down to the play.
With that in mind I'm going to go with Perry, no doubt at all. In today's NHL a guy who can light up goalies like Christmas trees are hard to find. Perry is one of those who can. Remember that Hart Trophy-winning season in 2010-11? All he did was score 50 goals. Oh, and 11 of those were of the game-winning variety. Remember how Perry just carried that Ducks team on his back down the stretch? It was some of the best individual hockey we've seen over that length of time in a long while.
Obviously here we're looking at two guys that play the game different. In about every sense of the word, Getzlaf is a play-maker. He has some awfully gaudy assist numbers in his career. But those numbers don't come without somebody finishing, and that's Perry's job.
Even better in my book, one thing that separates Perry from other big-time scorers is that he gets a lot of them the dirty way. Perry plays in front of the net a lot and yet remains very durable. He has played in at least 70 games in every season but his first. That's not an easy combination to find at all.
The thing I like most about Perry, though, is that he is a lot more than a goal scorer. He's a physical brute who tends to play on the edge sometimes. He set a career high last season with 127 penalty minutes. While that might seem like a lot -- after all, you want your best goal scorer on the ice, not in the box -- the reward is worth the risk. Perry was first on the Ducks last season by drawing 1.3 penalties per 60 minutes vs. the 1.0 penalties per 60 that he cost the Ducks. More often than not, he's going to put you on the power play, not on the PK.
If he does put you on the kill, though, he can also play short-handed, something I greatly value in a scorer. It makes a penalty kill that much stronger when you can feel good enough to put a big scorer on the ice. If there is a threat of a counter-attack, teams aren't going to be as willing to compress the offensive zone and the defenders aren't as likely to pinch down, instead opting to stick closer to the blue line or face getting burned. In the last two seasons Perry has five short-handed goals, not a ton but certainly enough to sit in the back of a power play's mind.
I know goal scoring is more likely to decline faster than almost any other metric in hockey, I'll take my chances with Perry keeping it up for a while longer yet. It's easier to keep it up by playing in the dirty areas, assuming the body holds up.
Community
Now you make your pick. All things considered, who would you rather have?
More from Eye on Hockey
Sidney Crosby vs. Evgeni Malkin
Joe Thornton vs. Pavel Datsyuk
For more hockey news, rumors and analysis, follow @EyeOnHockey and @StubitsCBS on Twitter and like us on Facebook.